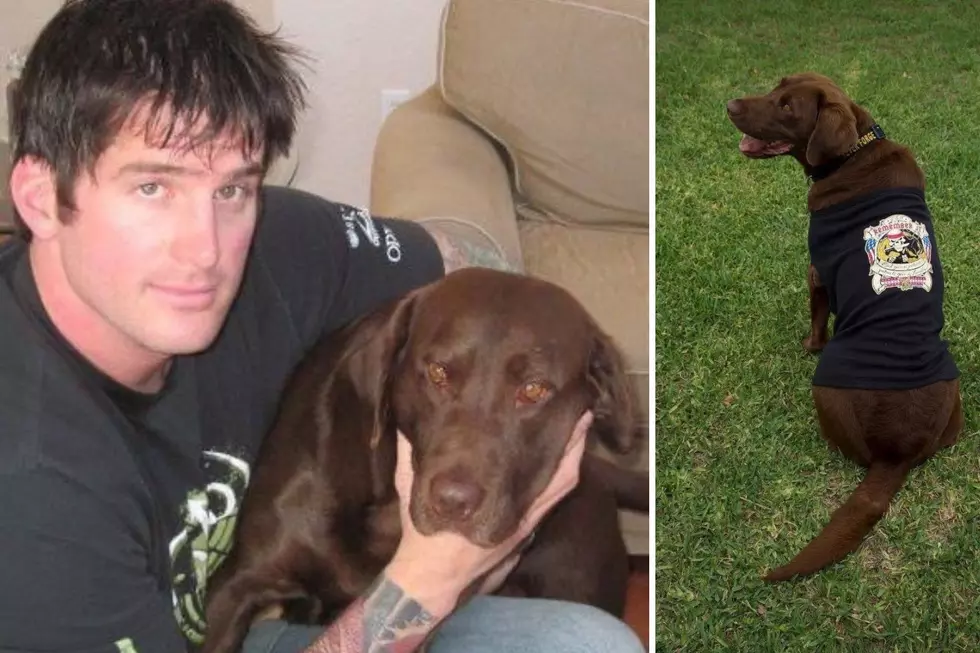 Memorable Dog of Slain Iowa Navy SEAL Passes Away [PHOTOS]
In memory of Navy SEAL Jon Tumilson Facebook Page
Some images stay with you forever. One of those is that of a slain Navy SEAL and his loyal dog that wouldn't leave his side.
According to KWWL, On August 6, 2011, Jon Tumilson of Rockford, Iowa was killed during a mission in Afghanistan. The 35-year-old Navy SEAL was "one of 22 Navy SEALS who died when their helicopter was shot down by Afghan insurgents," according to ABC News. Tumilson had a chocolate lab named Hawkeye with whom his life "revolved around." They were inseparable. So much so that Hawkeye laid next to Tumilson's casket during his funeral. An image that went viral and touched so many.
Jon's friend Scott took in Hawkeye and gave him an incredible life. As stated in Jon's memorial Facebook post, Scott did a lot with Hawkeye to "honor Jon's legacy and carry out his wishes." Sadly, Hawkeye crossed the rainbow bridge this week at the age of 15. He had a long life full of love. You can see that in the photos from Jon's memorial page on Facebook below.
While it's sad to see this sweet pup go, it's heartwarming knowing that these two best buds are together again.
Pets fill such a special spot in our hearts. To celebrate that, let's take a look at some of Iowa's beloved furry friends in the gallery below.
Iowans Celebrate National Dog Day 2021
Ridiculous Things Our Pets are Afraid Of
No matter how tough they act, our pets are all big babies! We asked listeners to share the ridiculous things their pets are afraid of, and here are some of our favorite responses!
To keep up with the latest in local news, download the app. It's completely free and you can opt-in for breaking news alerts. Did we mention it's free?