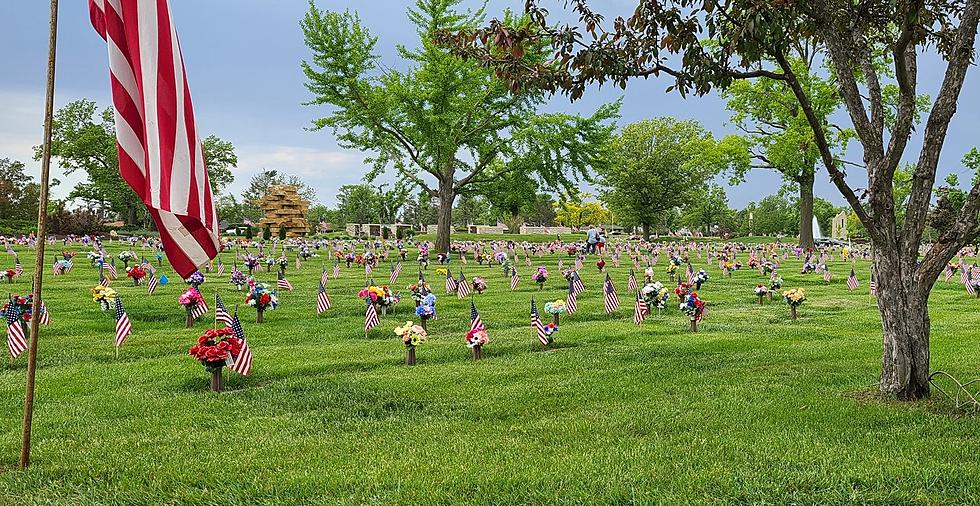 Cedar Memorial Needs Your Help to Honor Veterans for Memorial Day
Ryan Stevenson, Facebook
If want to do something special to honor veterans this Memorial Day, Cedar Memorial can help! The Cedar Rapids cemetery is looking for volunteers to help out with placing and removing flags.
Cedar Memorial Cemetery, located at 4200 1st Ave NE, is preparing for their annual Memorial Day weekend flag placement in May. They are welcoming "any and all volunteers to place flags on the graves of veterans at Cedar Memorial Cemetery  starting at 8am on Saturday, May 27th." According to the Facebook event page, the placement typically takes between two and four hours because there are around 8,000 flags to place. The more volunteers that show up, the faster it will go, so save the date!
If you're not able to make the flag placement event on May 27th, you are also welcome to help remove the flags on Tuesday, May 30th. That will also begin at 8 a.m. and require a good number of volunteers.
Each Memorial Day, Cedar Memorial displays over 1,500 American flags that have been donated by the families of veterans for the Avenue of Flags. The Avenue of Flags will be visible from Saturday morning through Monday night. They also hold a Memorial Day Tribute Ceremony on Memorial Day itself, which features speakers and live music. That will begin at 11 a.m. and will be live streamed on the website HERE.

For the latest Memorial Day updates from Cedar Memorial Cemetery, you can check out their Facebook page HERE or their official website HERE.
Vintage Cedar Rapids Postcards Show Us City's Amazing Past
Take a look through some historic postcards of Cedar Rapids. Enjoy this trip back in time.
Palisades-Kepler State Park Celebrates 100 Years
The 840-acre state park just south of Mount Vernon, Iowa celebrates its 100th birthday in 2022. Home to hiking trails, a beach, ramps for boats, camping, and fishing, it's long been a popular destination. The limestone bluffs of Palisades-Kepler State Park just add to its allure.