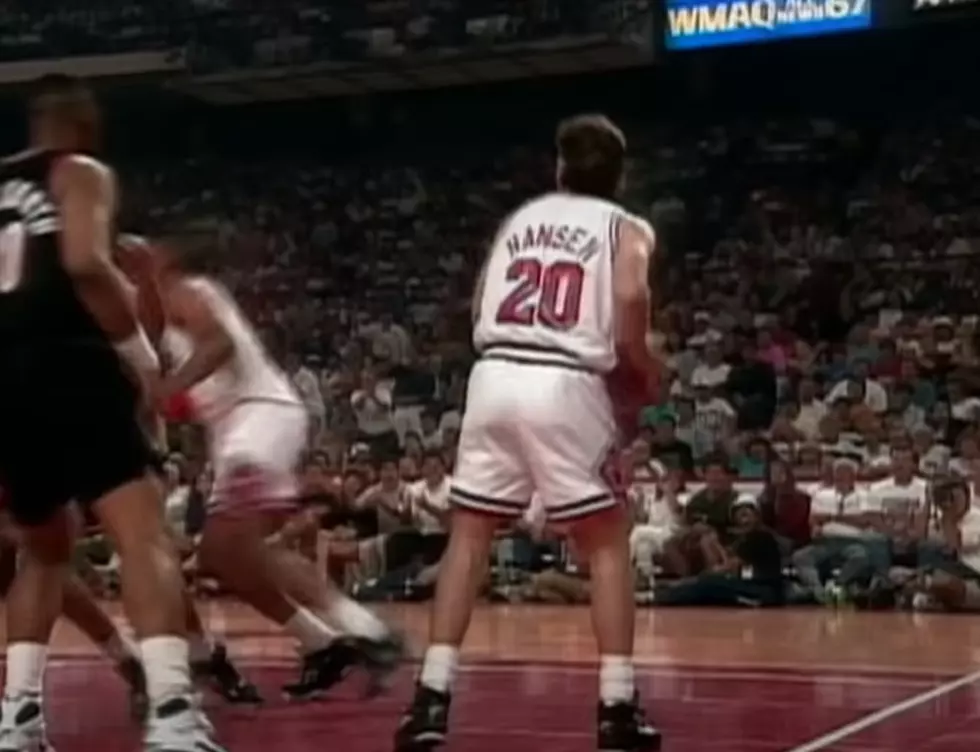 Bobby Hansen Talks Jordan and Running With The Bulls
YouTube via NBA
While Bobby Hansen may not appear much in the hit ESPN documentary 'The Last Dance', that doesn't mean that true basketball fans, such as myself, don't remember his contributions to the 1991-1992 Chicago Bulls championship team. We had the chance to talk with Bobby about his one season in Chicago where he got to suit up with the greatest basketball player of all time.
The Last Dance has revealed a few things about those 90's Bulls teams I didn't know, or at least remember. One thing that Bobby confirmed with us is that Michael Jordan loved to practice hard. Hansen noted that he was the one that typically had to guard Michael in practice. He said that he was afraid to be the one that accidentally hurt MJ. He didn't want to be the one to step on his foot, or roll an ankle and then, poof! Your season was over. Bobby said that he got along with Jordan just fine and that he and Michael, along with Scottie Pippen, would do their daily shooting drills together in practice
But the one story that Bobby clearly still loves telling to this day, is his big moment in the NBA Finals against the Portland Trail Blazers. As Bobby told us, the Bulls were down 15 points late in the game. Coach Phil Jackson pulled Jordan and put Bobby in at shooting guard. Also in the game were reserves like Stacey King and fellow Iowa alum B.J. Armstrong. It turns out that these reserve Bulls were about to start a run! B.J. hit Bobby in the corner and Hansen sunk a wide-open three. Then on the defensive end, he stole the ball which led to a Chicago fast break. Hearing Bobby tell the story you could, A: tell he'd told it a number of times, and B: he could see the images as clearly today as he did back in 1992.
Long story short, the Bulls rallied, Jordan re-entered the game and the Bulls went on to win the second of their six NBA Titles. Bobby told us the Michael was happy for him, finally winning a ring. Hansen was the only member of the 1991-92 Bulls that hadn't won a ring the previous year.
That season ended up being Bobby Hansen's last dance in the NBA. He retired after the season. He now makes Eastern Iowa his home and enjoys his job as part of the broadcasting crew for Iowa men's basketball.
How long it takes to binge 'The Office,' 'Game of Thrones,' and 50 other famous TV shows