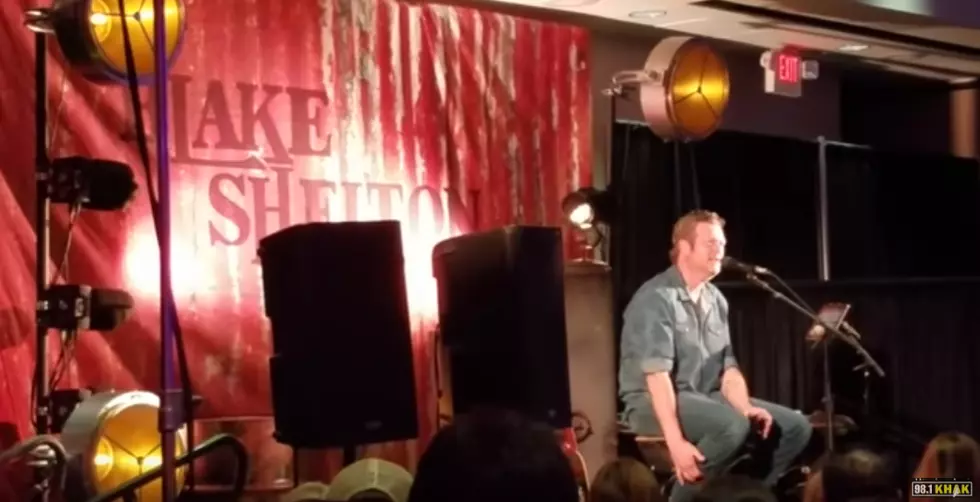 Blake Shelton Talked Iowa Hunting & Retirement Before Moline Show [WATCH]
KHAK via YouTube
Blake Shelton brought his 'Country Music Freaks Tour' to Moline, Illinois Friday (2/23) night and prior to the show, he met with some of his biggest fans at a special VIP event. Blake sang a few songs acoustically and also answered questions that were sent in ahead of time by those in attendance.
Blake covered a wide variety of topics during the approximate 30-minutes he spent with the fans. He talked about fans approaching him and asking if he remembers certain things that have happened. He reminded fans that he can't remember a lot of things because "I drink a lot." It was pure Blake Shelton humor.
We captured some of the Q&A, including a question from Lisa Williams from Anamosa, Iowa!
The show itself was awesome, with Carly Pearce opening up, followed by Illinois' own Brett Eldredge, Blake Shelton, and eventually Trace Adkins. During Brett's performance, he brought his adorable dog, Edgar, onto the stage.
The biggest surprise of the night was when Gwen Stefani joined Blake on stage to perform "Go Ahead and Break My Heart." It actually wasn't a big surprise to us, though. During the VIP pre-show event, our own Danielle spotted Gwen's two oldest boys near the stage. At the conclusion of the VIP event, Blake told everyone it was going to be a really special night and that we'd see when we got out there (into the arena, itself). There's no question in our minds he was talking about Gwen's appearance.
It was an awesome night with one of country music's biggest stars and tonight, Blake is back on our televisions as a new season of 'The Voice' debuts.