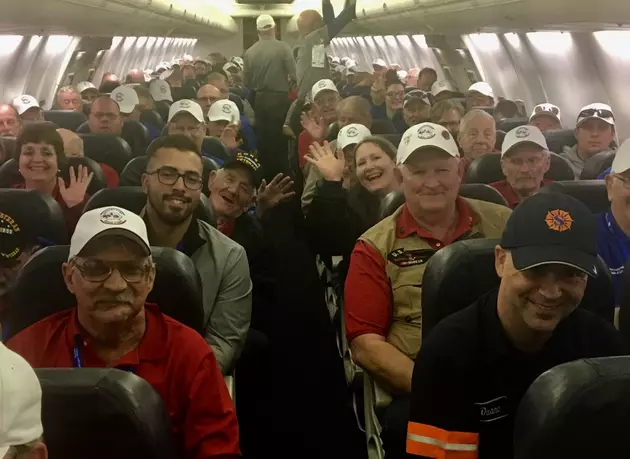 Behind The Scenes On The Eastern Iowa Honor Flight
Photo: Jaymz Larson
Today was one of the coolest days of my life. I had the honor and privilege to document the 27th Eastern Iowa Honor Flight. The flight consisted of 80+ military veterans from all branches, representing those who fought in WW II, Korea, Vietnam and the conflicts since.
When we landed in Washington, DC, the veterans were met by a spontaneous round of applause by the people flying out from nearby gates. It was chilling to see the look on the faces of both the veterans and those applauding them...one woman in the crowd was even moved to tears. It was a moment I'll never forget.
My favorite part of the trip was visiting the Washington Monument. It's a beautiful structure that sits on the opposite end of the Reflecting Pool from the Lincoln Memorial.
We also visited the WW II Memorial, the FDR Memorial, and the Korean and Vietnam War Veterans Memorials. We took pictures, enjoyed great food, reminisced, and made new friends. It was an awesome day.
The trip home was quiet, as we had an incredibly active day. When we arrived in Cedar Rapids, the welcome was amazing! A band, Boy Scouts, schools, parents, friends, strangers and even news cameras. It was a welcome home like no other....I've got an even greater respect for those who stepped up and served our country in the past.
The next time you see someone whom you know is a vet, or active duty, thank them for their service. And, I want to personally thank the Eastern Iowa Honor Flight for letting me tag along...I will always remember this day and the new friends I met on this trip.