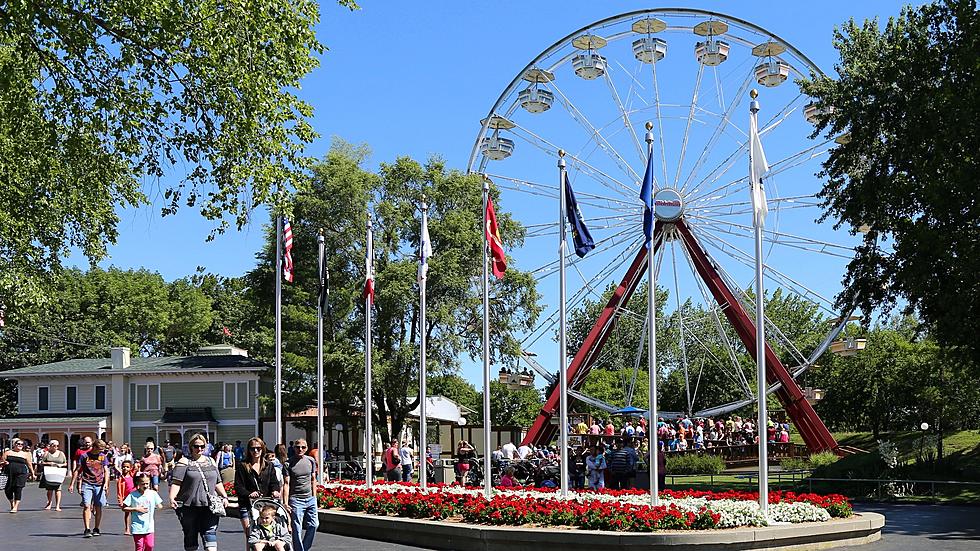 Adventureland Announces Price Changes, Popular Ride Won't Open in 2022
Adventureland Park
Adventureland Resort is encouraging you to plan ahead when it comes to visiting this year, and doing so will save you some money. Additionally, a once-popular ride will be closed this year.

The popular theme park, Adventureland Resort in Altoona, Iowa is almost ready to open for its 47th year. This year will include plenty of new rides and will mark the first time the park hasn't been locally owned.
Two weeks ago, we told you that after a Season Passholder Preview on May 7 and 8, Adventureland Park will open to the public the following weekend, on Saturday, May 14. When it opens, it will have a different pricing structure. You'll get a big benefit in cost if you plan your visit ahead of time.
According to the Adventureland Resort website, you "save more than 40% when you plan ahead and pick your visit date." It says "tickets from $39.99." The Adventureland website shows gate admission will be $69.99 this year if purchased at the gate.
Adventureland's site also says Season Passes are available "starting at 4 payments under $38" and for Groups of 15 or more you can "save up to 50%."
On paper, buying tickets ahead of time and indicating your visit date ahead of time to save money sounds great. However, I think it's safe to say that most people prefer to do a visit when time, and Iowa weather, provides the best opportunity. That typically means on fairly short notice.
So why the move? It sounds like the continuing struggle for businesses to find enough workers is at least partially to blame. Nick Paradise with Palace Entertainment, the company that bought Adventureland Resort last December, told WHO-TV,
A day that's got a lot of pre-booked attendance, we know that we're going to staff up and plan for a real busy day, you know, and conversely, we can run offers, you know, and adds greater discounts on days where maybe it looks like it's not going to be as busy so it really allows us to plan more in advance and helps to get guests planned as well too.
Adventureland Resort is expected to open eight new rides this year with more to come in 2023, however, one other ride won't be open this year.
The Raging River, which has been closed since a July 3, 2021 accident that killed 11-year-old Michael Jaramillo of Marion, will remain closed in 2022. Michael's father, David, and brother, David Jr., were also injured when the raft they were in overturned. David Jr. was hospitalized for a month.
It's not known if the Raging River, which opened at Adventureland Resort in 1983, will ever reopen. A spokesperson for Palace Entertainment shared in an email with KCCI,
We are in the midst of a comprehensive review of the attraction, working with the ride manufacturer as well as other third party experts to fully understand the attraction and safety upgrades it may need to comply with state, industry and Palace Entertainment standards. That process is expected to continue for some time, and thus we know the attraction won't open in 2022. The ride's ultimate future will be determined by the results of this review. Safety is our top priority, and we have taken a similarly thorough review process with the entire Adventureland Resort to ensure our safety standards are met.
READ MORE: 25 Companies You Might Not Know Are Owned by Disney
LOOK: Things from the year you were born that don't exist anymore
The iconic (and at times silly) toys, technologies, and electronics have been usurped since their grand entrance, either by advances in technology or breakthroughs in common sense.
See how many things on this list
trigger childhood memories—and which ones were here and gone so fast you missed them entirely.