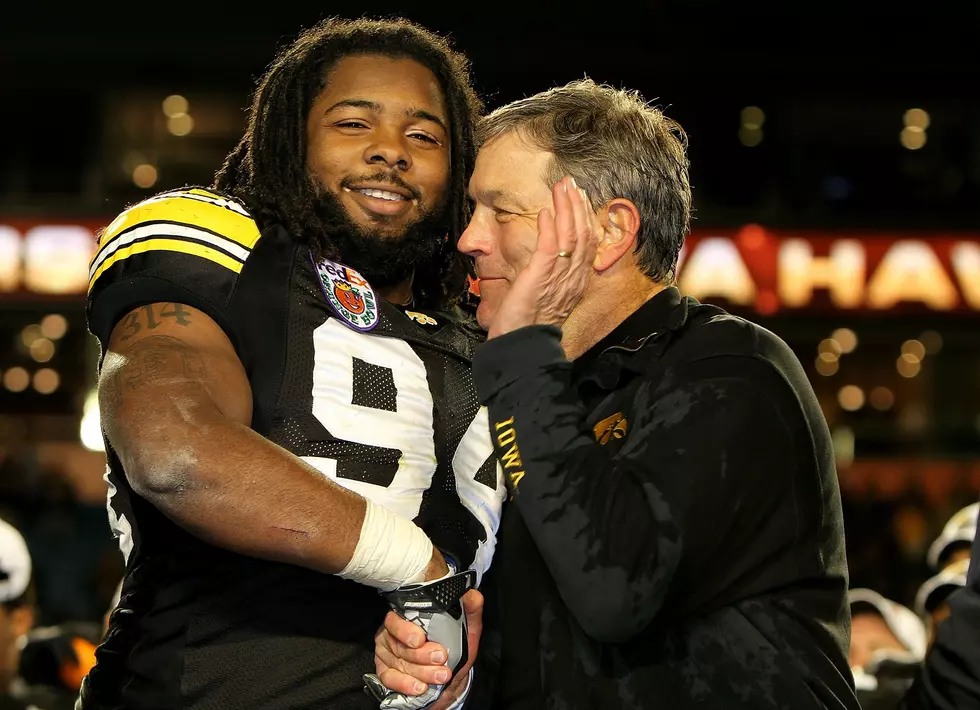 Adrian Clayborn & Kirk Ferentz Share Moment After Super Bowl [PHOTO]
Doug Benc, Getty Images
In his eighth season in the NFL, former Iowa Hawkeye Adrian Clayborn is a Super Bowl champion. Clayborn, though not a starter, was one of the disrupters on the defensive line for the New England Patriots in yesterday's 13-3 win over the Los Angeles Rams. Adrian had one of the 12 quarterback hits on Jared Goff.
After the game, a photo of Clayborn and Ferentz was taken that reminded me of one (above) from after the 2010 Orange Bowl, where Iowa defeated Georgia Tech 24-14. It was widely considered one of the best defensive performances under late defensive coordinator Norm Parker. Iowa held the Yellow Jackets to a total of 155 yards that day and Clayborn had nine solo tackles and two sacks.
The photo of Kirk and Adrian after last night's game is below. As you can see, they're both wearing those familiar smiles.
Kirk was at last night's Super Bowl to cheer on not only Clayborn and Austin Blythe, of the Rams, but his son James, as well. James, despite not playing in yesterday's game, won his second Super Bowl. He won his first with Denver in 2016. Something tells me when son and father met up after the game there were tears, much like this past September when Brian Ferentz congratulated his dad on becoming Iowa's all-time winningest coach.