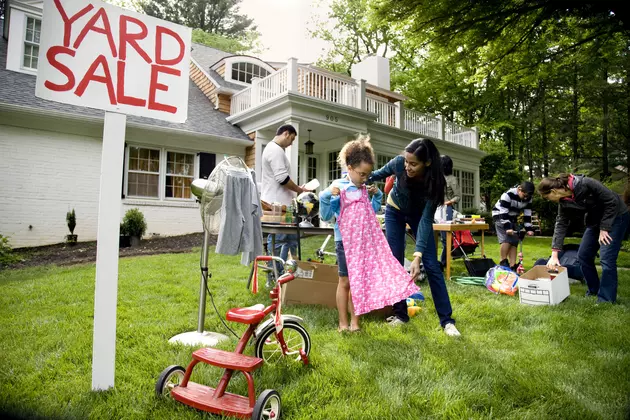 10 of the Hottest Items To Sell At Your Garage or Yard Sale
Getty Stock / ThinkStock
When you have a garage sale, nothing is more frustrating than sitting there all day and selling very little. There's numerous reasons why of course.  You may have items priced to high.  Or, it may simply be your items are just not in that high of demand.  So what SHOULD you sell at your garage sale (or at least what should you advertise to attract the crowds)?  Here's a couple great ideas.
Want to make sure hundreds stop by to see your stuff?  Booths are still available for the World's Largest Garage Sale coming My 9th to Hawkeye Downs.
Christine Glade - Thinkstock

Christine Glade - Thinkstock

1

Furniture is usually a pretty good seller.  We've been able to get rid of hand me down end tables, coffee tables, dressers, headboards, display cabinets, etc. pretty easily.  In fact many shoppers are looking ONLY for furniture.  The best part, these are the items you're really looking to get rid of as they take up the most space.  Price em right, be willing to negotiate, and watch the items fly out of your sale.

2

As I said above, kids books seem to do well, as do toys and kids clothes, especially baby clothes.  The biggest reason why is that they seem to get little use.  Kids grow out of them or bored of them so quick, yet to buy them new costs a ton.  As for toys, make sure they're placed at kids eye level.  Once they get that toy in their hand, parents have a harder time saying no.

3

From golf clubs to bicycles, sports equipment is quiet attractive, especially when the items are in great shape. For example, we had a bike our neighbor gave us, ready to ride, and it was gone quick!  We've sold some kids bikes quickly too... especially when they're ready to ride.  Exercise equipment falls in this category too, as buying them new costs too much.

Elena Kalistratova - Thinkstock

Elena Kalistratova - Thinkstock

4

Beer and Sports Memorabilia

Guys LOVE this stuff.  We had a garage sale once advertising beer and sports memorabilia, and had numerous people lined up at open to check it out.  One guy even offered to buy this beer themed clock that I wasn't selling.  At first I said no, but he left me his number in case I changed my mind.  Of course I ended up calling him. In terms of sports stuff, while most of it will sell well, I just couldn't get rid of my collection of baseball pennants (which surprised me).

Jupiterimages - Thinkstock

Jupiterimages - Thinkstock

5

Designer clothes, perfume, shoes, and jewelry

Key word here is Designer.  It's normal to have a bunch of clothes you want to put up for sale.  However, adult clothes usually don't sell well, unless they're designer brands in good condition or possibly pregnancy clothes. Surprisingly, designer perfumes do well too, even if they're not full bottles.  Shoes seem to be a hit or miss, depending primarily on condition.  Jewelry can also be hit and miss, with price being the biggest indicator.  Just make sure you keep a good eye on all these items, as they're usually of higher value, and tempting for those looking for the "five-finger" discount.

6

Power Tools and accessories

Here's another thing that costs too much in the store for how little use they get by the amateur. The ones who use them a lot though wear em out quick, and love taking these gently used items off your hands.  Price em right, and kiss em goodbye.

7

Cell Phones and Accessories

We love getting the latest, greatest phone to hit the market.  However, if you have a bunch of old phones, make sure you completely erase the memory, and get them in your sale.  Well, that is unless they're your flip phone from 5 years ago, or bag phone from the 90's. They've got to be somewhat recent, and of course in good looking/working condition.  Also, if you have extra accessories for them, it's a huge plus.  Teens will love your garage sale.

8

Entertainment Items: Books, Movies, Video Games and Electronics

At almost every garage sale we've ever had, we've had a table with books, movies, and video games, and it becomes a popular table.  As we've moved to the digital age, some of these items have dropped in popularity, especially VHS tapes (which I still have tons of). But bools, still seem to do well, especially kids books. Surprisingly, we've had luck with old VCRs and DVD players too, as well as computer systems and parts. That is unless they are over priced or outdated (ie non flat-paneled TVs and computer monitors.)  It never hurts to have these items plugged in and on however so people can see they work.

9

These can be hit or miss I need to warn you. For example, at our last garage sale we had a bunch of these.  One day of the sale, almost no one looked at them.  However, the next day, we couldn't keep simple shot glasses on the shelves.  You just never know. I must say though, if they have sports logos on them, your chances of sale increase immensely.

Jupiter Images - Thinkstock

Jupiter Images - Thinkstock

10

Sometimes the most random things sell at garages sales.  It's the type of things you look at and say "No one will ever by that," and then are stunned when it's one of the first things sold.  Why?  Because you can't find it any where else.  We had a pewter ox pulling a cart, that was broken, as they use to be attached and no longer were. We figured it would never sell.  However, it was gone right away.  Sometimes if it's something they can't find anywhere else, they'll grab it right up.

11

BONUS: Shade, Shelter, food, and drink

Sure, you don't really sell shelter and shade.  But if you're garage sale has it, more people are willing to stop in and browse, especially on the hotter days.  That's also why bottled water and soft drinks can sell well.  Our kids love doing their bake sale/lemonade stand too!