Brett Young Announces Dates for First Headlining Tour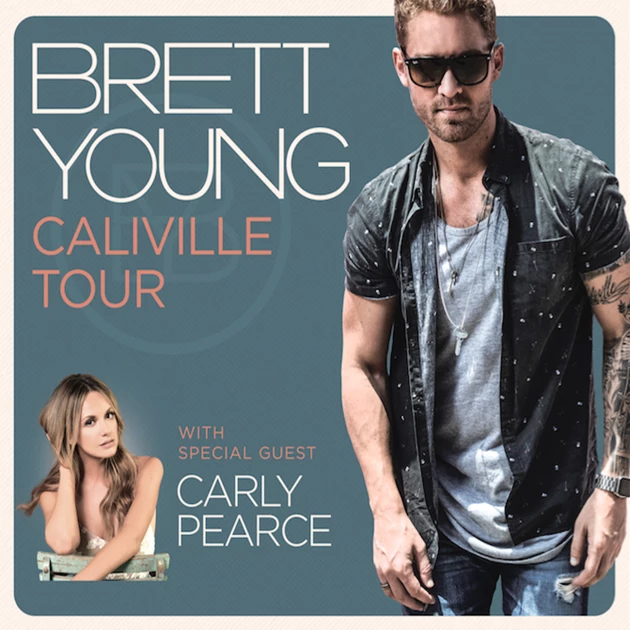 Brett Young will soon be hitting the road for a tour with his name on the top of the ticket. The artist is setting off on his first headlining tour, the Caliville Tour, bringing along newcomer Carly Pearce as his opening act.
The California native will hit 14 venues around the U.S. beginning in October and wrapping up in December.
"I am so excited to get to go out on my first ever headlining tour this year. It's a pretty surreal feeling," Young says in a press release. "I can't wait to see all my amazing fans out on the road, and I'm honored to have the incredible Carly Pearce along as well."
Watch Brett Young Perform "In Case You Didn't Know" for RISERS
Subscribe to 98.1 KHAK on
Tickets for Brett Young's Caliville Tour go on sale Aug. 25, and fans can expect to see the same high-energy, well-crafted talent on display they may have caught on Lady Antebellum's You Look Good Tour, on which Young has been an opener (and has been writing with Charles Kelley). See the full list of Caliville Tour dates below.
Young's debut full-length album has been making a strong impression in country music this year, scoring a huge hit with "In Case You Didn't Know," which earned Young a spot as the first song released in 2017 from a country artist to reach Platinum certification. ToC named him one of our RISERS for 2017, and we recently rolled out his stunningly emotional cover of "Hallelujah" from the RISERS shoot, which received more than 100,000 views in just a few days.
Brett Young Caliville Tour Dates:
10/14 — Charlottesville, Va. @ Jefferson Theater
10/21 — Kansas City, Mo. @ The Truman
10/28 — Sarasota, Fla. @ White Buffalo Saloon
11/2 — Charleston, S.C. @ Music Farm
11/3 — Baltimore, Md. @ Rams Head Live
11/4 — Charlotte, N.C. @ Coyote Joe's
11/11 — Knoxville, Tn. @ Cotton Eyed Joe's
11/18 — Louisville, Ky. @ Mercury Ballroom
11/29 — Oxford, Ohio @ Brick Street Bar-Miami U
12/1 — Detroit, Mich. @ Majestic Theatre
12/2 — Madison, Wisc. @ Orpheum Theater
12/9 — Baton Rouge, La. @ Texas Club
12/13 — Cincinnati, Ohio @ Bogart's
12/16 — Milwaukee, Wisc. @ The Rave
Brett Young On Set at the 2017 RISERS Shoot
We Promise You've Never Seen a Cover Quite Like This!
Subscribe to 98.1 KHAK on
Source:
Brett Young Announces Dates for First Headlining Tour