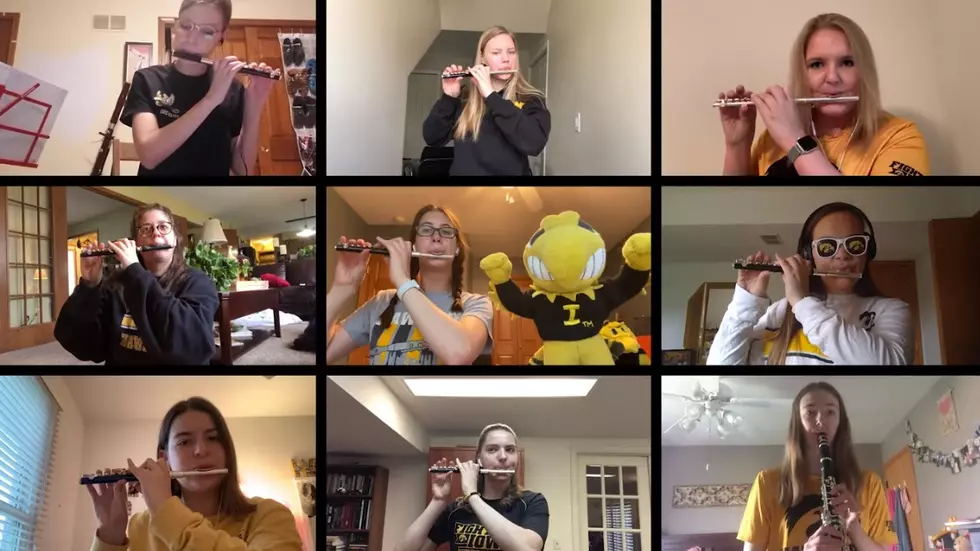 Watch the Iowa Marching Band & More Perform Virtual Fight Song [VIDEO]
Hawkeye Marching Band via YouTube
One of the many great things about going to a sporting event on the University of Iowa campus in Iowa City is the Hawkeye Marching Band.
On Hawkeye football Saturdays when you hear the voice of Lou Crist, you know it's on. Lou, the voice of the Iowa band, always tells us to 'Get Ready for the Boom.' The band pours onto the field for pregame and you feel your adrenaline begin to pump. When I'm sitting in Kinnick Stadium, that's about the time my right leg begins to bounce with anticipation. Then comes the Iowa fight song and you know it won't be long 'til the black-and-gold clad Hawkeyes come roaring out of the tunnel.
These days, the Iowa Marching Band can't perform together, but they're still able to provide us with a very special performance of the Iowa fight song. It was performed separately across the country and features members of the community, healthcare workers, University of Iowa staff, and of course members of the University of Iowa Hawkeye Marching Band. For everyone, myself included, that needs to hear a little Hawkeye spirit, enjoy this virtual performance of the Iowa Fight Song.
We Stand Together
#InThisTogether
And if you miss the band on the field, enjoy this video from November 4, 2017. There can't be a better pregame performance to watch than from the day the Hawkeyes defeated #3 Ohio State by a score of 55-24 behind five touchdown passes from quarterback Nate Stanley.
Enjoy and here's hoping we see the band and the black and gold Hawks on the gridiron at Kinnick Stadium on Saturday, September 5. Oh, how I miss sports.
Iowans Show Off Their Hawkeye Spirit