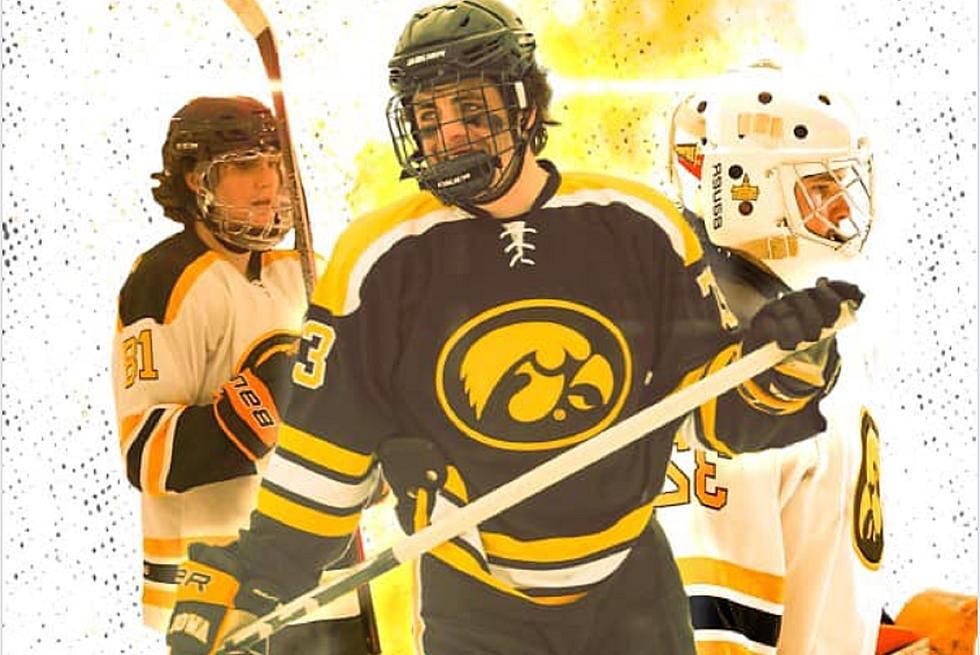 University of Iowa Hockey Team to Play for National Title
University of Iowa Men's Ice Hockey
[UPDATE] Iowa lost the title game today by a final of 4-0. Obviously a disappointing end to a wonderful season and a magical tournament ride.
[ORIGINAL STORY] This team can't be stopped and now, only one team stands between them and a national championship.
Just a couple of weeks ago, we shared with you that the University of Iowa Men's Ice Hockey team was headed to the nationals for the first time in the team's history. The self-funded team was doing fundraising to help them cover expenses for their trip to the  American Collegiate Hockey Association National Championships.
The fundraising behind them, here's how the bracket looked just under a week ago when pool play was about to begin.
Iowa started with an upset, something they've turned into a regular occurrence. In their first game, Iowa beat the 3rd seed in their pool, Liberty, by a single goal... 3-2.
The Hawkeyes followed that with a 5-3 win over #2 pool seed Northeastern. Iowa then beat the #1 seed in the pool, Utah State 8-5, putting them in the Final 4.
Last night came the unforgettable semifinal game against Indiana. Tied at 1 in double-overtime, this is how it ended:
Four wins in four days. And now, only one game remains.
Today's National Championship pits the Hawkeyes against the University of Massachusetts-Amherst Minutemen. The puck drops at 3 p.m. Iowa time in Boston. The game will stream on Hockey TV. A paid subscription is required to watch. However, you can keep up with the game here, for free.
Iowa is coached by former Cedar Rapids Roughrider Kevin Brooks, who got a good luck shout-out from his former team this morning. We join them in wishing the Hawkeyes the best as they go for the title this afternoon. Let's. Go. Hawks!
Photos That Show the Beauty of Iowa
Did You Know These Famous People Were From Iowa?
Actors, actresses, athletes, singers, and even a former President. They're all from the state of Iowa.