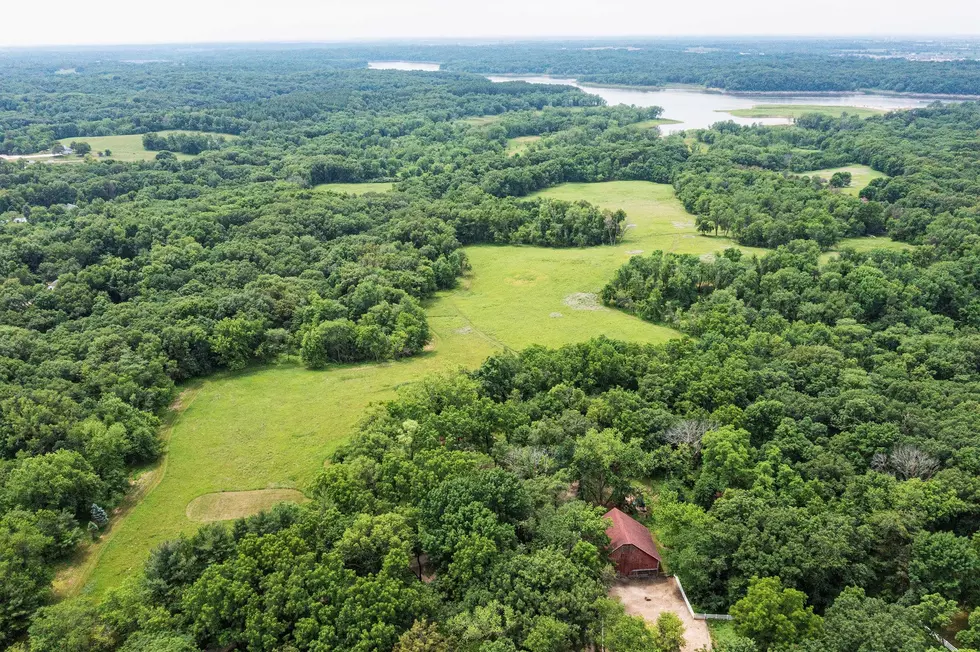 "Two Horse Farm" in Johnson County To Open for Public Use [PHOTOS]
Johnson County Conservation Board
The Johnson County Conservation Board has made a big announcement. They now own 83 acres of land known as Two Horse Farm. It's great news for citizens of Johnson County, though it may take a while for them to experience it.
Located in north central Johnson County, Two Horse Farm is made up of a 3.5-acre farmstead, 15.5 acres of prairie that's been reconstructed, and 64 acres of forest.
Erin and Brian Melloy donated the property, which was possible thanks to a purchase agreement from the Iowa Natural Heritage Foundation. Funding from the Johnson County Conservation Board and the State of Iowa REAP Grant Program also made the transfer of the land at 2257 Sugar Bottom Road NE in Solon a reality. Coralville Lake borders the property on two sides.
The property features a beautiful farmhouse, built in 1890. It's been restored and has English gardens surrounding it. The entire property has 364 different plant species. The Johnson County Conservation Board says at least 14 of them are rare or notable.
Additionally, the 1913 barn below is part of the property. It has flight pens inside and is being used by Raptor Advocacy Rehabilitation and Education (RARE).
The Johnson County Conservation Board (JCCB) also promises an amazing view from the highest point of the property that provides a great view of Coralville Lake and the Iowa River valley.
Another very cool facet of the project is that another 7 acres of prairie were donated to the Iowa Tribe of Kansas and Nebraska by Erin and Brian Melloy. The JCCB says it will provide "a piece of land through which the Ioway people can reconnect, both physically and spiritually, to their ancestral homeland. Currently, the Iowa Tribe has no land holdings in the state of Iowa. The partnership with the Ioway people will provide outstanding educational opportunities for park visitors to relate to the earth and to Native American cultural values."
This photo of a Native American circle market was provided by JCCB.
The property will likely provide cross-country skiing, hiking, picnicking, and other opportunities, like the collection of mushrooms. A 1992 house on the property will also be available for rent. It will likely take up to two years to get everything ready for public use.
An aerial view of the farmstead is below.
Palisades-Kepler State Park Celebrates 100 Years
The 840-acre state park just south of Mount Vernon, Iowa celebrates its 100th birthday in 2022. Home to hiking trails, a beach, ramps for boats, camping, and fishing, it's long been a popular destination. The limestone bluffs of Palisades-Kepler State Park just add to its allure.
Amazing $3 Million North Liberty Home Sits on 27 Acres [PHOTOS]
This 5-bedroom home has 5 full bathrooms and is nearly 10,000 square feet. Located close to Coralville Lake it has an in-ground pool, hot tub, 4 fireplaces, and so much more. It's priced at $2.95 million. The listing agent is Gwen Johnson of Skogman Realty.