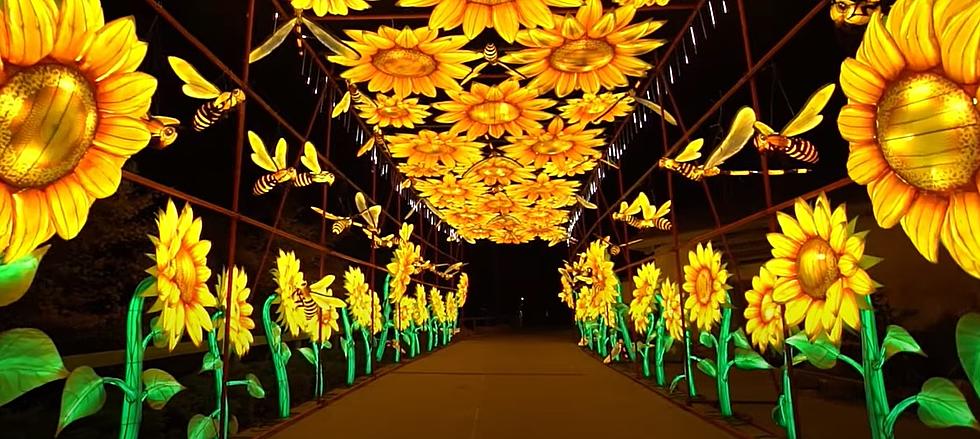 The Wild Lights Festival Will Return to Iowa This April [PHOTOS]
Blank Park Zoo, YouTube
Get ready to see some gorgeous light displays!
Blank Park Zoo in Des Moines is getting ready to kick off a big event this weekend! Their annual Wild Lights Festival presented by MidAmerican Energy will be returning on Saturday! The event will feature "over 50 handcrafted, larger-than-life, illuminated animal shaped Asian lanterns created by artisans with Tianyu Arts & Culture, Inc," including underwater animals, giant insects, mythical creatures, and endangered animals.
The 2023 Wild Lights Festival will run Wednesdays through Sundays from 7:30 p.m. to 10 p.m. beginning on Saturday, April 1st. The final day will be Monday, May 29th (Memorial Day). The zoo recommends allowing for 60 to 90 minutes to enjoy all the displays, with the best time to visit beginning at sunset.
Tickets for Blank Park Zoo's Wild Lights Festival will range from $23 to $25 and you can purchase them online HERE. If you purchase pre-sale tickets before April 1st, you can get them for a slight discount. All ages two and up must have a ticket to get in. There is also a discount on tickets for large groups of 40 or more.
The Wild Lights Festival happens rain or shine, so you may need to break out your boots and umbrellas! You probably want to wear comfortable walking shoes, too. There are no refunds or exchanges once your ticket is purchased. For more information on the Wild Lights Festival, you can check out Blank Park Zoo's official website HERE.
WATCH OUT: These are the deadliest animals in the world
LOOK: Stunning animal photos from around the world
From grazing Tibetan antelope to migrating monarch butterflies, these 50 photos of wildlife around the world capture the staggering grace of the animal kingdom. The forthcoming gallery runs sequentially from air to land to water, and focuses on birds, land mammals, aquatic life, and insects as they work in pairs or groups, or sometimes all on their own.