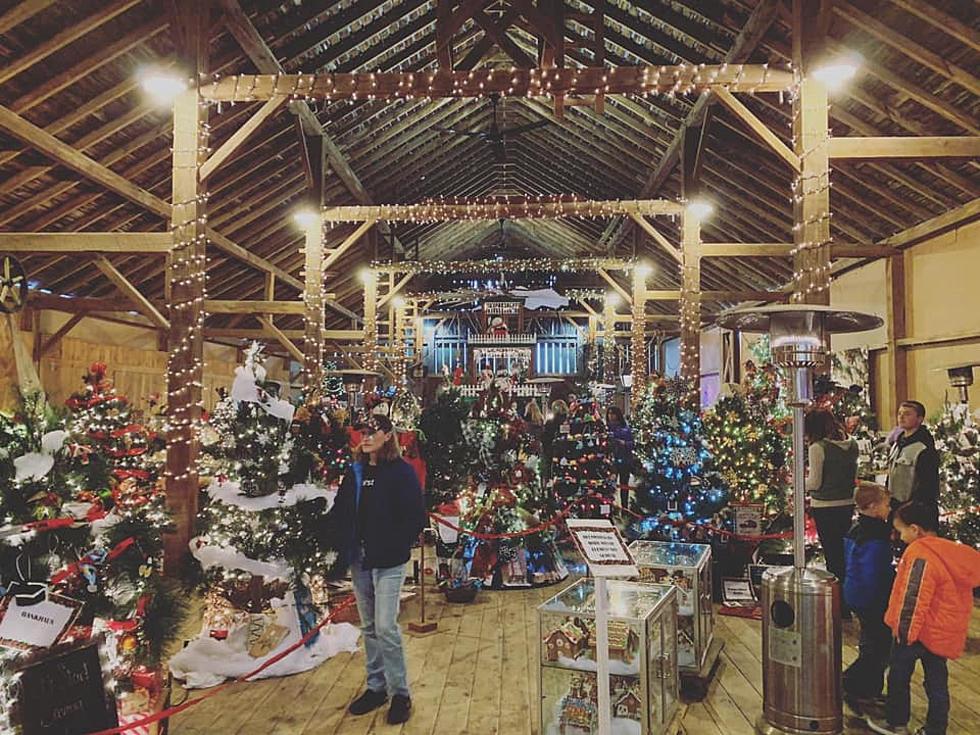 Six of the Best Places to Check Out Holiday Lights in Iowa [PHOTOS]
Courtlin
If you're looking for some impressive light displays to enjoy with your family this holiday season, look no further!
Thanks to a recent article from the website Only in Your State, we discovered an incredible drive-thru holiday light display here in Eastern Iowa. It's called the Mount Pleasant Festival of Lights, and it's located at Midwest Old Threshers Campground in Mount Pleasant. According to the website, "visitors to the Festival of Lights will enjoy over 100 Holiday Lighted Displays from a gingerbread man, tractors, candy canes, and the holly old elf Santa Claus that fill a 1.6-mile route in the Midwest Old Threshers Campground." The annual display has been around since 2013 and attracts lots of visitors each year.
The Mount Pleasant Festival of Lights is open every night until New Year's Eve from 5:30 to 9 p.m. at 405 E Threshers Road. It costs $10 for family vehicles, $25 for limos, $30 for mini coaches, and $60 for motor coaches. For directions and more information, you can visit the Old Threshers' website HERE.
Mount Pleasant isn't the only city with an awesome holiday light display! Here are five others happening in 2021:
Located at Eagle Point Park in Clinton, visitors will enjoy "over 40 lighted displays, 500,000 supporting lights, castles, streams, and a gingerbread lodge that fill a 1.1 mile loop." It's open daily through December 30th from 6 p.m. to 9 p.m. Monday through Friday and 5 p.m. to 9 p.m. Saturday & Sunday. It costs $8 per car (up to 10 people). Get more information HERE.
Located at Adventureland in Altoona, Jolly Holiday Lights is put on by Make-A-Wish® Iowa. It was started over 25 years ago and has become the group's "largest fundraising event, funding more than 1,000 wishes to date." The display is available to view daily through January 2nd, 2022 (except on December 24th, 25th, & 31st) from 5:30 p.m. to 10 p.m. Prices start at $25 per car. Get more information HERE.
The first ever Holiday Lights at the Lake drive-thru light show is located at the West Overlook Campground in Iowa City. The Facebook page says, "this inaugural community event boasts over 30 large and animated lighting installations." It serves as a fundraiser for The Bird House. Holiday Lights at the Lake is open Monday through Thursday from 5:30 p.m. to 8:30 p.m. and Friday through Sunday from 5 p.m. to 9 p.m. through New Year's Eve. Prices start at $10 per car. On Wednesday nights, the display is walk-through only and costs $5 per person. Get more information HERE
The Festhalle Barn in the Amana Colonies is transformed into a Christmas wonderland each holiday season called the Tannenbaum Forest. The website reads, "join us in the Festhalle Barn to see over 50 unique Christmas Trees, each decorated by a different business, organization, group, or family. The entire barn will be decorated for the season, and we will have several areas for photo opportunities set up. Our 17 foot German Christmas Pyramid will be front and center!" The Tannenbaum Forest is open Friday to Sunday through December 19th. Hours are Friday from 11 a.m. to 5 p.m., Saturday from 10 a.m. to 7 p.m., and Sunday from 11 a.m. to 4 p.m. (hours are different for the Prelude to Christmas event December 3rd through 5th). The event is free, but a  donation for the University of Iowa Stead Family Children's Hospital is encouraged. Get more details HERE.
Wyoming, Iowa is referred to as the "Christmas City." According to a 2019 article from KCRG, volunteers string 1,300 lights throughout the downtown area in December, a tradition that has been around since the 1930s. The lights are up all month long, but the official Christmas City Celebration will take place on Main Street this Sunday, December 5th and will include a tree lighting, children's activities, a craft/vendor fair, wagon rides, refreshments, and more. Get more information on the event HERE.
Check out some more awesome light displays in the state of Iowa on Only in Your State.
Thank you to the listener who shared another light display with us! The drive-thru Jingle Bright Holiday Lights is happening at the Delaware County Fairgrounds in Manchester Fridays and Saturdays from 6 p.m. to 10 p.m. through January 1st. This is the second annual event and will feature more than 25 new displays. You can read more about it HERE.
10 Little Iowa Towns Known For Big Things
Palisades-Kepler State Park in the Fall
I took a drive out to Palisades-Kepler State Park in Mount Vernon to capture some of the beautiful fall colors before winter takes over. I hope you enjoy the scenery as much as I did!