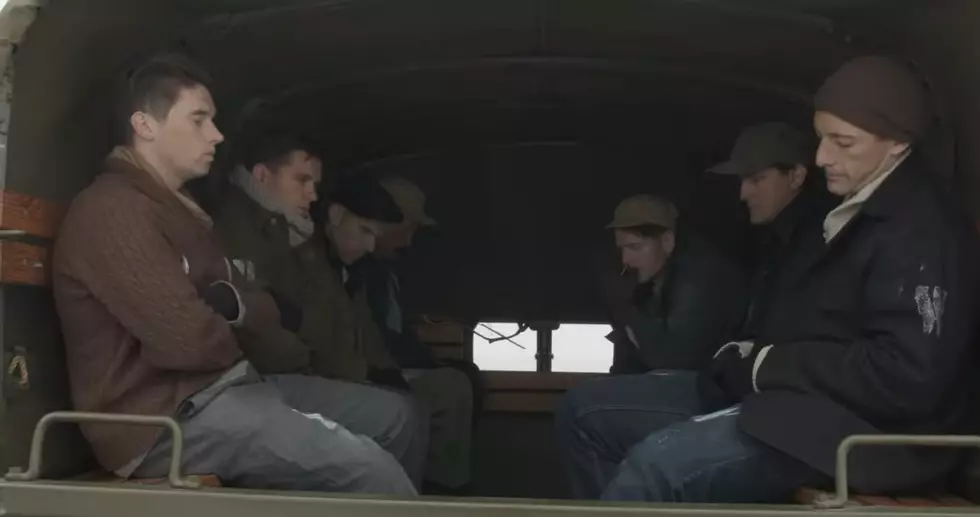 Movie Based on True Events in Northern Iowa Now Showing [WATCH]
Collective Development Inc, YouTube
*Updated with additional theatres showing the movie, and the dates you can see it.
Earlier this month was the premiere of a movie filmed in the northern part of the state last year. It's a movie that's based on true events that happened in Iowa nearly 80 years ago, that few Iowans even knew about. Until now.
Scenes for the movie were shot in Algona, Forest City, and Whittemore, Iowa all in north central Iowa, mostly in November of 2021. A number of area residents were used as extras in the film, which is called "Silent Night in Algona".
The movie is inspired by actual events that happened at a prisoner-of-war camp in the state of Iowa during World War II. Yes, German POWs were held in Iowa during the war. PR Log says there were actually 700 camps in the Midwest, that housed Germans in not only WWII but WWI as well. Approximately 425,000 Germans were held at those camps.
Why was the camp in Algona, Iowa selected for the movie? According to PR Log, it was "because of a unique 'gift' made by a group of prisoners and presented to the town of Algona, at Christmastime." *If you don't want to know what that gift is, please don't read the text of the Camp Algona historical marker in the photo below.
Camp Algona covered 287 acres, had more than 70 buildings, and could house over 3,000 prisoners at one time during WWII. More than 10,000 Germans were processed at the camp from 1943 to 1946.
You can see the official trailer for the movie below.
'Silent Night in Algona' premiered at the Fridley Theatres State 5 Theatre in Algona on Friday, December 9. An extension has been announced at that theater, now keeping it there through December 29. A number of other theaters will also be showing the movie in the coming weeks. Here are the theaters we know are showing the movie, and when:
Stuart Fremont Theatre (Stuart, Iowa) December 16 through 21
Riviera Theatre (Emmetsburg, Iowa) December 16 through 22
State 5 Theatre (Algona, Iowa) through December 29
Fridley Theatres (Waukee, Marshalltown, and Pleasant Hill, Iowa) December 30 through January 5
Fridley Theatres (Carroll, Iowa) January 6 through 12
CEC Theatres (Fort Dodge and Mason City, Iowa) January 6 through 12
Clarion Theatre (Clarion, Iowa) January 20 through 26
Windsor Theatre (Hampton, Iowa) January 20 through 26
The movie will also be shown at Celebration Cinema in Lansing and Grand Rapids, Michigan Friday, December 16 through Thursday, December 22. Collective Development Incorporated, the company responsible for the movie, is based in Michigan, as is director Anthony Hornus.
I reached out to Marcus Theatres and Collins Road Theatres in Cedar Rapids to see if they'd be showing the film. Marcus Theatres said they didn't believe so but couldn't confirm that for sure. Bruce Taylor at Collins Road Theatres says he's in communication with one of the film's producers about securing a screen but doesn't have anything finalized yet. Stay tuned.
'Silent Night in Algona' is expected to be shown in theaters during 2023, as well. If you're not able to see it on the big screen, it's expected to be released to TV, streaming, and DVD in late 2023.
LOOK: Things from the year you were born that don't exist anymore
The iconic (and at times silly) toys, technologies, and electronics have been usurped since their grand entrance, either by advances in technology or breakthroughs in common sense.
See how many things on this list
trigger childhood memories—and which ones were here and gone so fast you missed them entirely.
LOOK: 100 years of American military history
KEEP READING: Scroll to see what the big headlines were the year you were born
Here's a
look at the headlines
that captured the moment, spread the word, and helped shape public opinion over the last 100 years.