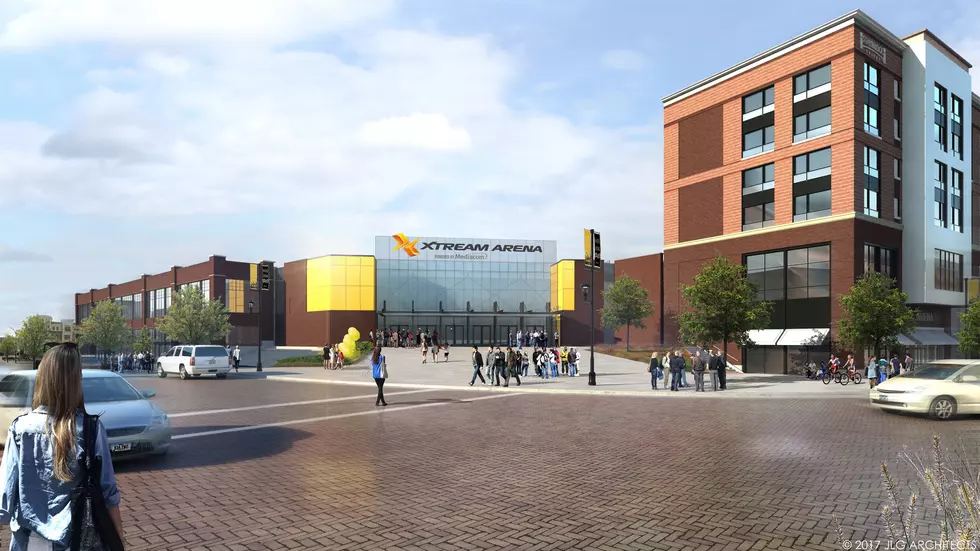 See What The New Coralville Arena Will Look Like Inside [PHOTOS/VIDEO]
Spectra Venue Management
The excitement continues to build for a new concert, event, and sports venue in the corridor. The Xtream Arena & Fieldhouse in Coralville continues to make progress towards its opening. Let's take a look at what the new arena will look like, inside and out.
First, a quick peek at the way the site looks now. The walls are just beginning to go up.
You saw what the main entrance of Xtream Arena will look like above, now here's the outdoor entrance to Fieldhouse at Xtream Arena:
Fieldhouse at Xtream Arena will feature five indoor basketball courts, with nets that can drop down between each:
Here it is in relation to Xtream Arena:
Now for Xtream Arena itself, which will resemble Carver-Hawkeye Arena in that you'll walk in at street level and down to your seats.
Each Xtream Arena section will include around 15 rows and the arena will be decked out in black and gold. The first confirmed tenant is the Iowa women's volleyball team.
Premium seating includes: 12 suites, one party suite, and a 188-seat open-air club at mid-court.
I saved my favorite part for last. This video does a great job of showing you what to expect, and feel, inside the new arena:
Xtream Arena and Fieldhouse, powered by Mediacom, is expected to open in August of 2020 and arena management is hosting community open houses to answer any questions you may have. The next one will be held Thursday, April 18 from 4:30 to 6:30 pm at 30hop at 900 East 2nd Avenue in Coralville.