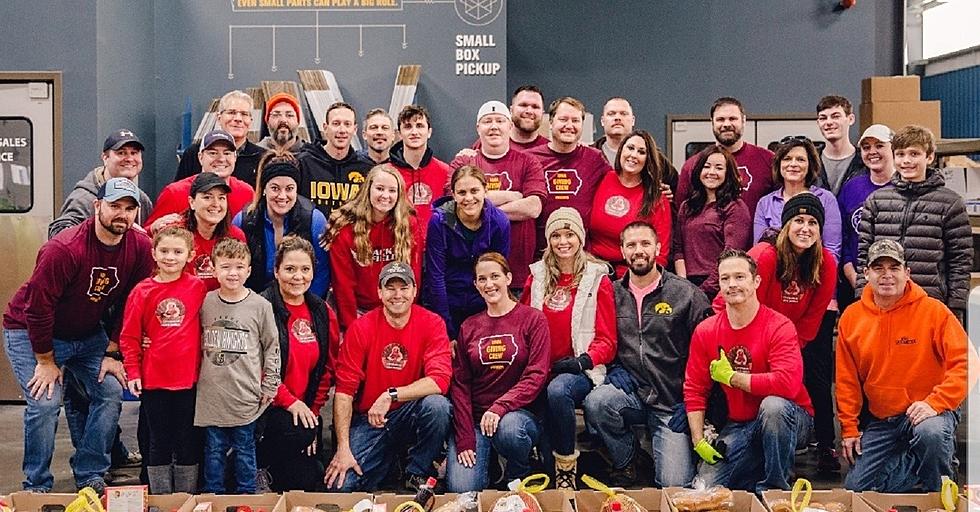 Operation Give Birds Will Give Thanksgiving Meals in the Corridor
Iowa Giving Crew
One of the most beautiful things about the holiday season is the willingness of people to give. Whether it's their time, money, or possessions, this time of year can truly show just how generous human beings can be to one another.
This coming Sunday, a tradition that perfectly exemplifies that unselfishness in Iowa will resume -- and this time, it's expanding almost 60 miles north.
Beginning after a prank between friends, Operation Give Birds grew enough over a three-year period to be able to fund and distribute 800+ Thanksgiving meals to people in need in 2020.
That prank, you might ask? According to their website, iowagivingcrew.org, this is how the story goes:
Someone had put a friend's contact information on Craigslist saying he was giving away free turkeys just before Thanksgiving - he was not. But our friend immediately received numerous phone calls inquiring about the free turkeys. Upon realizing there was a large need for something like this in our community, we gathered a group of local friends to actually raise some funds to give away turkeys that Thanksgiving.
More on their story:
The band of friends ultimately rose nearly $1500 and purchased turkey and sides that were provided to families in need in the Cedar Rapids area. Having had the following year to commit to the project and offer more organization, the crew raised $5,400 and were able to provide free turkeys and sides to 280 local families.
The Iowa Giving Crew officially formed in early 2019, earning the 501(c)(3) status, making them a formal nonprofit organization. Since then, they expanded to Iowa City in 2020, and now, they're headed to Waterloo.
For those in need, click this link to register. The event will take place at 125 Courier St. (Van Meter Inc.) in Waterloo this coming Sunday, Nov. 21 from 12 to 2 PM.
As stated in the video above by Scott Hamsik, organizer for the Iowa Giving Crew, anyone and everyone in need can register:
We're not doing background checks, we're not taking social security numbers. You sign up, you get a meal.
Ashton Kutcher, Human Rights Advocate: The 19 Charities He Supports
Ashton Kutcher is widely recognized (outside of acting) as a philanthropist and a fighter against child trafficking. Already a phenomenal cause, the Cedar Rapids native does so much more.
Eastern Iowa Restaurants That Opened/Reopened/Relocated in 2021
LOTS of new restaurants opened here in Eastern Iowa in 2021! Here are a list of them, plus restaurants that reopened or relocated.