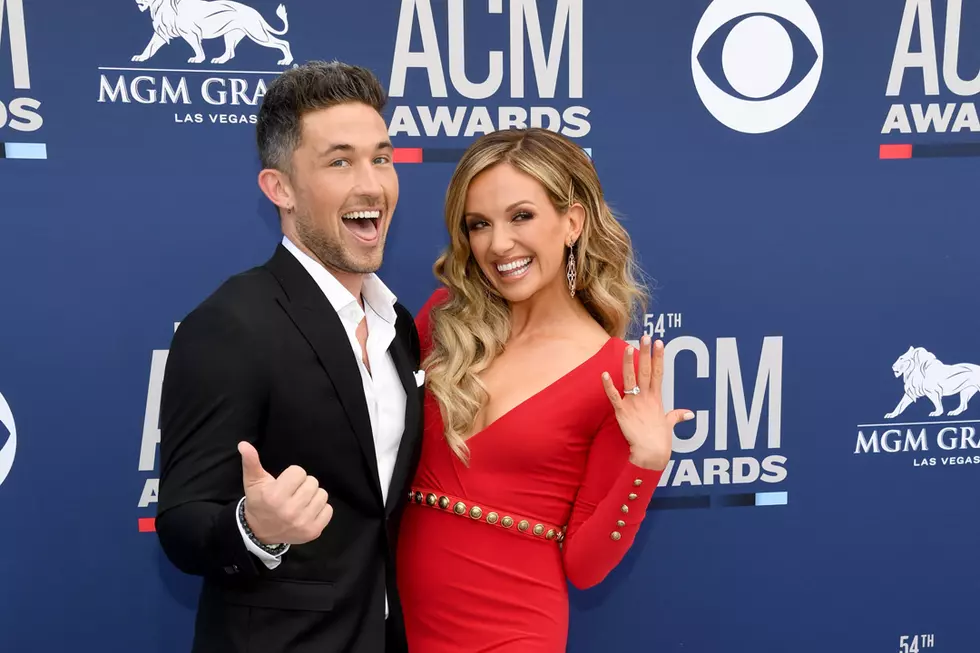 Michael Ray, Carly Pearce Show Off Wedding License
Ethan Miller, Getty Images
Michael Ray and Carly Pearce are one step closer to making it legal! The country couple turned to social media on Tuesday (Sept. 10) to show off their wedding license, sharing that the countdown is on to their wedding.
The country singers both turned to Instagram to post the same picture of themselves celebrating with a glass of wine, while Pearce proudly holds up the document that will make them man and wife once it is officially filed.
"Found out today getting your marriage license & buying a good bottle of Cabernet costs about the same," they write, adding the hashtag #COUNTDOWNISON.
Ray and Pearce quietly dated for several months before they went public with their romance in July of 2018. They announced their engagement in December of 2018.
How'd They Get Together, Anyways? 
"The man of my dreams got down on one knee earlier this week and asked me to be his wife," Pearce posted to social media, including photos of the proposal and ring. "@Michaelraymusic you are the most precious example of God's timing & His love for me. WE ARE GETTIN MARRIED, BABY!"
"All in one simple 'yes,' I said 'yes; to love, 'yes' to peace, 'yes' to faithfulness, 'yes' to respect, 'yes' to kindness, 'yes' to trust, 'yes' to patience and 'yes' to never settling," she wrote on Instagram. "Michael, I would've married you the first night we hung out because I knew then you were the one."
It turns out that Ray felt the same way. He says they were just "hanging out in the kitchen" at her house on their first date, calling it "the most easiest conversation I've ever had." He had already realized he was falling in love with Pearce when she asked him what he liked to do.
"And I was like 'Well, this is when you can either lie and be cool, or tell her what you actually do,'" he recalls to PopCulture.com.
So he told her that he liked to go to the Nashville Palace by himself to listen to old country bands, and invited her to go.
"We go the Palace and sit at the bar, and I was like, 'Okay, how do I do this, because she's getting the hint,'" Ray adds. "I see this is happening, so I went to put my arm around her, and it was like at the moment when I put my arm around her chair, I was like, 'Oh, I'm going to marry her.' I knew that moment."
Country Singers Who Got Married or Engaged in 2019