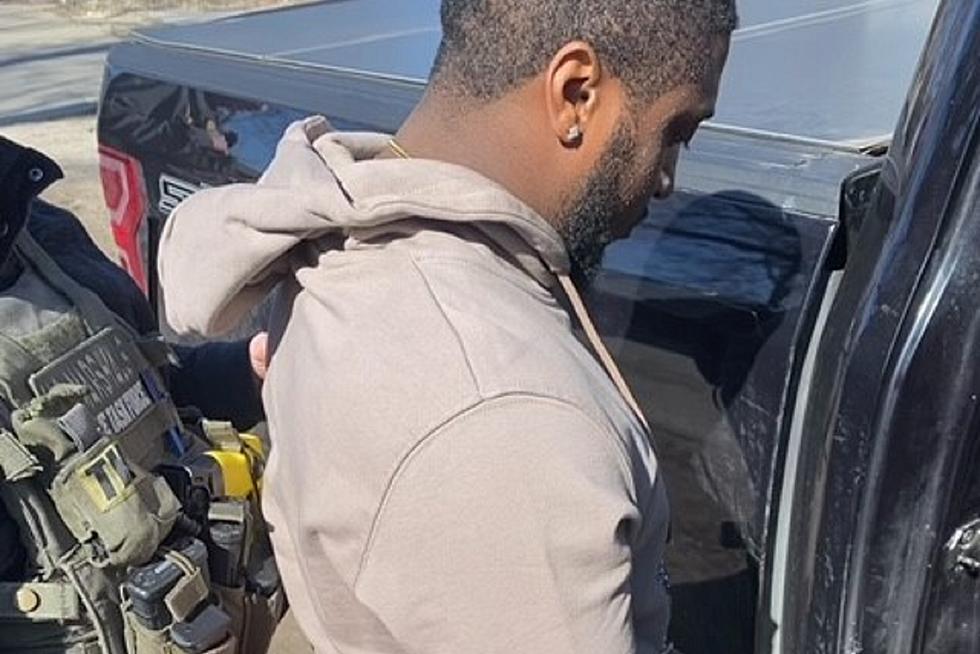 Marion Police Department Announces Arrest in Cocktails & Company Murder
Marion Police Department
An arrest has been made in a St. Patrick's Day shooting in Marion that left one man dead.
According to the Marion Police Department, at approximately 4 p.m. this afternoon (Wednesday, March 29), an arrest was made in connection to a shooting at Cocktails and Company on Blairs Ferry Road. The shooting happened just after 11 p.m. on Friday, March 17.
Marion Police, the U.S. Marshals of the Northern Iowa Fugitive Task Force, the FBI Safe Streets Task Force, and the Waterloo Police Department arrested Duval Walker Jr. this afternoon. They received information earlier today that he was in Waterloo and he was arrested (photo below) without incident.
Walker Jr. was arrested in the 900 block of Linn St. in Waterloo on charges of First Degree Murder, Possession of a Firearm or Offensive Weapon by a Felon, and Going Armed with Intent. The charges stem from the shooting death of 32-year-old Cameron Barnes at Cocktails and Company.
[ORIGINAL STORY 3/23 4:50 PM]
The Marion Police Department has released photos from inside Cocktails and Company where a man was shot and killed late in the evening on St. Patrick's Day, Friday, March 17. In releasing the images, they're asking for assistance from the public.
Multiple law enforcement agencies responded to calls of a shooting at Cocktails and Company on Blairs Ferry Road just a few minutes after 11 p.m. on March 17. Officers with the Marion Police Department, Cedar Rapids Police Department, and Hiawatha Police Department, along with deputies from Linn County Sherrif's Office, all arrived on the scene and found one person had been shot.
The following day, the Marion Police Department identified the shooting victim as 32-year-old Cameron Barnes. He passed away after being taken to a hospital.
This afternoon, Marion Police released a series of photos taken from surveillance video inside Cocktails and Company in the 10 minutes or so leading up to last Friday night's shooting. The first image is from 10:56 p.m. The final one from 11:04 p.m. Authorities responded to the scene at 11:06 p.m., according to a media release last Saturday from the Marion Police Department.
Marion Police are asking for the public to help them in identifying persons inside Cocktails and Company that could be possible witnesses to the shooting. Investigators would like to talk to anyone in the photos below to "learn what they might have seen or heard."
If you know any of the people in the photos below, you're asked to contact the Marion Police Department at 319-377-1511. Anonymous information can be provided by calling Linn County Crime Stoppers at 1-800-272-7463.
The day after the shooting, Cocktails and Company posted this message online:
Last night was something we never would have imagined. This is such a heavy weight, and we want to extend all of our thoughts and prayers to those who were there, experienced it, and have been affected by it.
We love Cedar Rapids and Marion and all the people that belong to these places! We want fun, love, expression, and above all, peace.
Life is so confusing, and at times, we're at a loss. We will be closed and taking some time off. Hug each other, love each other and be kind to each other ❤️ See you soon!
The Top-Rated Restaurants in Marion & Hiawatha
As a way to highlight some of the restaurants just outside of Cedar Rapids, we turned to Yelp to figure out the highest-rated restaurants in Marion and Hiawatha. In order to be added to the list, the official address of the business had to be in one of those two cities. Here are the top ten!
Aerial View of Marion Home For Sale is a Major Wow
The home is located at 6201 Lakeside Road in Marion and is listed for $2.5 million as of December of 2022.