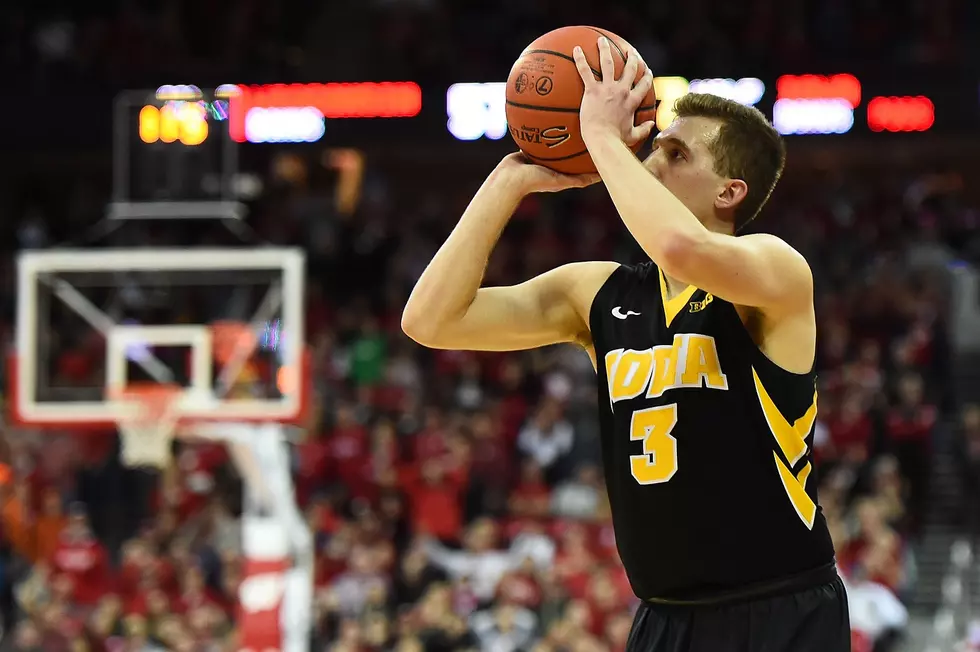 Limited Edition Jordan Bohannon BobbleHeads Now Available
Getty Images
Jodan Bohannon's name is all over the Iowa men's basketball and Big Ten record book. He is the Iowa record holder for three-point shots made, assists, and free throw percentage. He is the Big Ten career leader in three-point shots made and fourth in NCAA history. He helped lead Iowa to three NCAA Tournament appearances and currently plays for the Iowa Wolves NBA G League team. But you really haven't arrived as a basketball legend until you get your own bobblehead.
The National Bobblehead Museum and Hall of Fame are releasing three Jordan Bohannon bobbleheads to the public today. There are three different versions of the Bohannon bobblehead, featuring Iowa's three jersey colors, black, gold, and white. They feature Bohannon's name and number and he's holding up three fingers because, you guessed it, he's just hit another three-point shot!
If you're an Iowa Hawkeye basketball fan and love collectibles, then these Bohannon bobbleheads will look great in your office at work or in the game room at home. Each bobblehead is individually numbered and are available only through the National Bobblehead Museum and Hall of Fame. You can order one, or a set of three, through their online store.
Do you have any other Iowa athletic bobbleheads? I did a quick search and found some featuring Herky the Hawk, Fran McCaffery, and women's coach Lisa Bluder! Former players Peter Jok and Devyn Marble bobbleheads can also be found on sites like eBay. You haven't made it until you're a bobblehead! Congrats to Jordan Bohannon!
MORE: See 30 toys that every '90s kid wanted
Best Photos From A Magical Weekend at Carver-Hawkeye Arena
On Saturday and Sunday, February 25 and 26, 2023, the Iowa men's and women's basketball teams pulled off last-second victories against Michigan State and Indiana.
On Saturday, the men became just the 4th team in college basketball history to overcome an 11-point deficit with less than 1 minute to play.
On Sunday, the #6 Iowa women defeated #2 Indiana on a 3-point shot at the buzzer by Caitlin Clark.