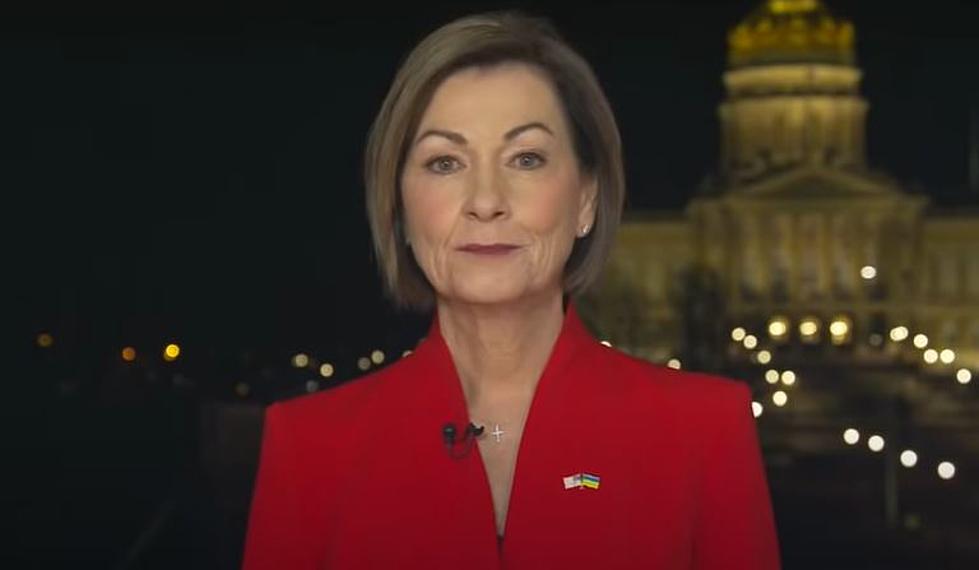 Kim Reynolds' Responds To Biden In State of The Union Rebuttal
via YouTube
Last night, Iowa Governor Kim Reynolds represented the republican party as she spoke in response to President Joe Biden's State of the Union.
In Biden's speech, he spoke about the conflict in Ukraine, voting rights, and health care.
In Reynolds's rebuttal, she accused him of failing to bring respect and unite America.
"Even before taking the oath of office, the President told us that he wanted to 'make America respected around the world again and to unite us here at home.'
He's failed on both fronts," said Reynolds.
In her speech, Reynolds also addressed the conflict in Ukraine.
"Now all Americans must stand united in solidarity with the brave people of Ukraine as they courageously defend their country against Putin's tyranny. As they fight for their freedom," said Reynolds. "But we shouldn't ignore what happened in the run-up to Putin's invasion. Waiving sanctions on Russian pipelines while limiting oil production here at home; focusing on political correctness rather than military readiness; reacting to world events instead of driving them."
Reynolds continues by adding that Biden and Democrats have been ignoring America's problems, making them worse.
"They were warned that spending trillions would lead to soaring inflation. They were told their anti-energy policies would send gas prices to new heights," said Reynolds. "But they plowed ahead anyway, raising the price at the pump by 50% and pushing inflation to a 40-year high."
She adds Biden believes inflation is a "high-class problem" but Reynolds stresses that it is something that affects everyone.
"I saw moms' and dads' paychecks buy them less and less. I watched working people choosing which essentials to take home and which ones to leave behind at the register," said Reynolds.
When it came to COVID mandates, Reynolds took the time to call out hypocrisy.
"Where governors and mayors enforce mandates but don't follow them. Where elected leaders tell their citizens to stay home while they sneak off to Florida for sun and fun; where they demand that your child wear a mask, but they go out maskless," said Reynolds.
She goes on to talk about how COVID took time away from children, leading to learning loss, isolation, and mental illness.
"That's why Iowa was the first state in the nation to require that schools open their doors. I was attacked by the left; I was attacked by the media. But it wasn't a hard choice," said Reynolds. " It was the right choice."
And even though Republicans don't have the majority in DC, she said Republican governors are doing what they can to stand up for what they believe.
"We are standing up for parents and kids; we're standing up for life. We're keeping our communities safe and thanking those in uniform," said Reynolds. "We're fighting to restore America's energy independence, including biofuels. We're getting people back to work, not paying them to stay home. Most of all, we're respecting your freedom."
She goes on to talk about the border situation and how there needs to be protected from human trafficking and drugs coming into the United States.
"With Texas and Arizona leading the way, I, along with Republican governors from several states have sent resources to the border. And we've actually gone to the border—something that our President and Vice President have yet to do since taking office," said Reynolds.
As Reynolds started to wrap up her message, she mentioned the new tax bill that was signed on Tuesday that lowers Iowa's tax rate to 3.9 percent.
She finishes her speech by saying "the State of our Union is indeed strong."
12 Stupid Iowa Laws Still on the Books
Here is All The House You Get for $1 Million Dollar in Cedar Rapids vs. Los Angeles
Got an extra mil? Don't move to Los Angeles, you can get waaay more house in Eastern Iowa! Yes, pool included.