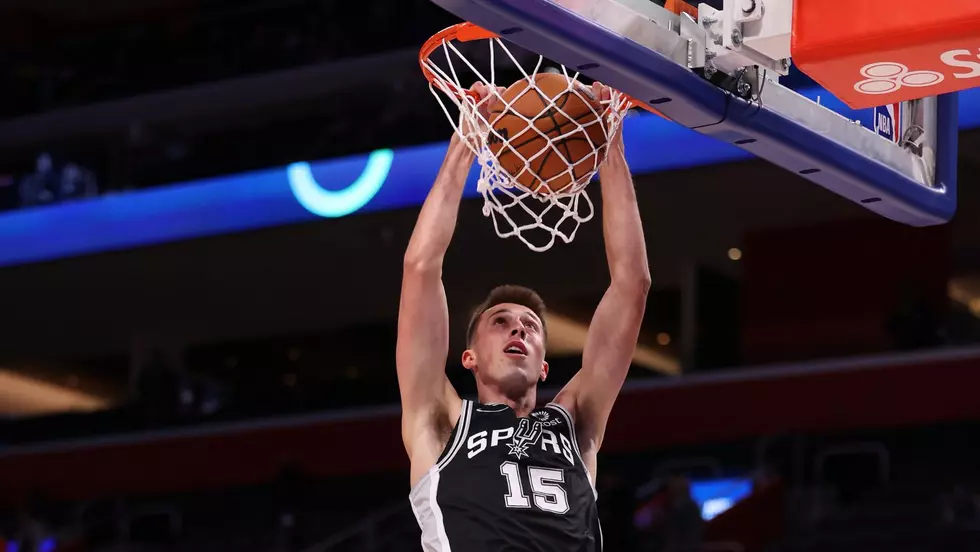 Former Hawkeye Hooper Waived Two Months After Contract Signing
Getty Images
Just two months ago, former Iowa Hawkeye basketball star Joe Wieskamp signed his first fully-guaranteed NBA contract with the San Antonio Spurs. The deal was for two years and $4.4 million.
In what appeared to be a great setup for the Muscatine, Iowa native to show off his skills and be established in one city for a couple of years, the opportunity was quickly taken away. As reported by Sham Charania of The Athletic, Wieskamp was waived today.
Wieskamp was selected 41st overall in the 2021 NBA Draft by the Spurs, and he spent his rookie season on a two-way contract. Within the contract, he split time between San Antonio and playing for the G-League affiliate, the Austin Spurs.
In his limited time on the floor in San Antonio, he put up 2.1 points over 7.1 minutes per game. He scored in double figures twice for the Spurs in 2021-2022, putting up 13 points against the Toronto Raptors in a 129-104 loss in January and 11 points against the New Orleans Pelicans in a 124-91 loss in March.
In 15 games for Austin, Wieskamp put up 17.1 points and grabbed 3.1 rebounds per game.
During his final year in Iowa City, the 6'6 wing put up 14.8 points, hauled in 6.6 rebounds, and dished out 1.7 assists. He also shot 46.2 percent from three during that season.
This is what he told the media regarding his game following the NBA Combine:
Everyone knew going into it knew that I was a great shooter. I shot 46 percent throughout the college season. Anyone can look at that and realize how good of a shooter I was. I think people realized after watching the combine how athletic I was, too. How quick I was on all those different tests, and I think that I'm going to continue to develop. My game is only going to get better. It's only going to get stronger, and so I think people realized and saw the potential there.
Some Iowans Will Appear in One of 2022's Most Popular Video Games
A few kids that grew up right here in Iowa will represent their home state in this year's edition of NBA 2K23. They'll be joined by a few guys representing the Hawkeyes and the Cyclones.
Elkport: Iowa's Ghost Town