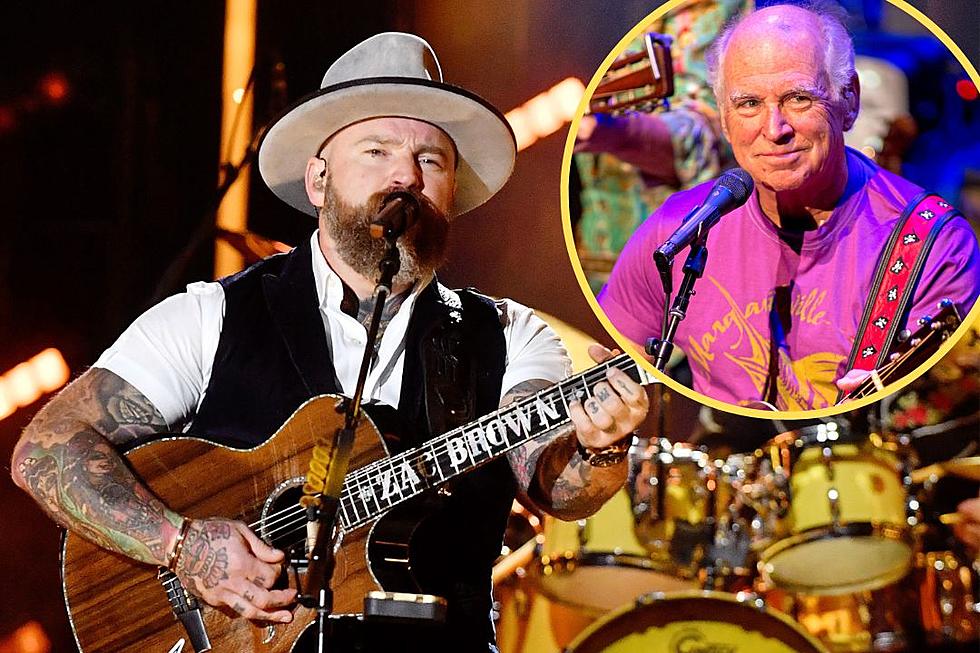 Zac Brown Band Remember Late Jimmy Buffett's Promise to Them
Jason Davis / Rob O'Neal/Florida Keys News Bureau, Getty Images
Following the death of Jimmy Buffett on Sept. 1, the members of Zac Brown Band are looking to carry on his legacy.
Brown — the band's frontman — reveals a special promise the late musician made to the crew years ago. According to the country star, during a 2020 episode of CMT Crossroads, Buffett said he would "pass the torch" to them one day.
"Back when we did @cmt crossroads with JB, on there he said he'd pass the torch onto us," Brown shares in a social media post honoring the musical legend. "It was one of the greatest honors of my life."
"And we will mourn him and we will celebrate one of the most incredible lives of any artist that I've ever seen… an incredible American poet and soul. Rest in paradise my friend," he writes alongside a video of the Zac Brown Band singing "Margaritaville."
It appears the musical tribute came during ZBB's stop at the Bank of New Hampshire Pavilion in Gilford, N.H. The band also honored Buffett with another post that included some music video clips from their collaborative effort, "Knee Deep."
"Hope you're knee deep in the water somewhere in paradise today, @jimmybuffett. We were honored to know you and to make music with you. Fins up," the caption reads.
Buffett joined Zac Brown on the 2011 track and also took part in the updated version of their 2022 song "Same Boat."
"We all been kicked and knocked around / But you ain't gonna keep a good man down / You can run like hell from your mistakes / But you can't hide from your truth," Buffett sings in the second verse, also harmonizing with the band in chorus.
Buffett died Sept. 1, 2023, after a quiet battle with skin cancer. He was 76 years old.
See Inside Jimmy Buffett's Staggering $6.9 Million Palm Beach Mansion
Jimmy Buffett
sure knew how to live the good life. His former 3-bedroom, 3.5-bathroom, 4,039-square-foot mansion in the exclusive Eden Properties neighborhood in Palm Beach is exactly the kind of laid-back home you'd expect the superstar to relax in when he was off the road.
The interior centers around a combined dining and living room with eye-popping vaulted ceilings topped off by skylights, while a massive wall of mahogany-framed sliding glass doors looks out over the pool area outside. The kitchen is decorated in gleaming white, and each of the bedrooms has its own attached bathroom, while the massive master suite also has sliding glass doors that open to both the pool and a bathroom that looks like it belongs in a high-end resort.
The exterior of the house is just as striking, centered around a sparkling pool of deep cobalt blue. The pool area features plenty of lounging, and a loggia just outside the living room offers open-air dining. There are lush gardens, brick paths that walk through elaborate pergolas and a fountain. The property also features a two-car garage with a guest suite overhead, and it offers deeded access to the beach nearby.