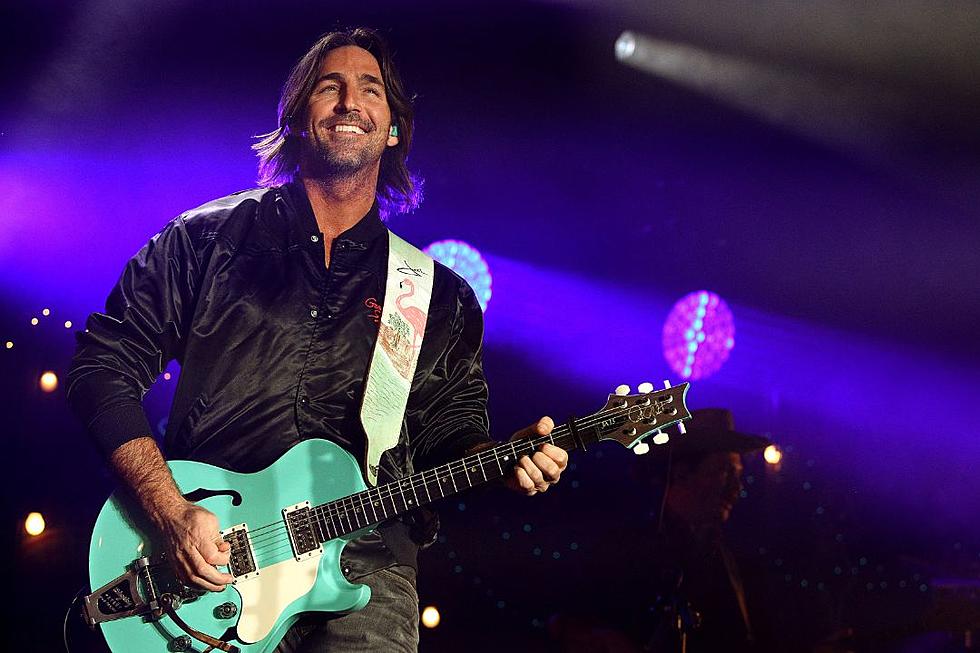 Jake Owen Announces Seventh Studio Album, 'Loose Cannon'
Sean Gardner/Getty Images
Jake Owen has announced plans for his first studio album in four years, and it will make its way to fans very soon.
The project, titled Loose Cannon, will be released on Friday, June 23.
The album will feature 16 new tracks penned by recognizable songwriters and artists including Jordan Davis, Walker Hayes, Ashley Gorley, Brent Cobb, Jessie Jo Dillon and more. Owen will give fans a taste of the new project with the release of four album tracks — "On the Boat Again," "Solo, Solo," "Nothing" and "Hot Truck Beer" — this Friday, May 26.
"I can't wait to share this new wave of music with my fans," Owen says of the project. "This album is a long time coming and feels like the best version of me. Grab your buddies, put the boat in the water, pour a cold one out, and we'll catch y'all out on the lake. It's the best time of year and we're ready to celebrate."
To celebrate the news, Owen shared an acoustic performance of the title track — a dedicated love song written by Matt Roy — on social media.
"As long as your my anchor, babe, I'll be your loose cannon," Owen sings in the heartfelt song.
"I love this song. I've never met the guy that wrote this song. I feel like we're living the same life though," Owen said before playing the tune.
Owen will appear on Good Morning America on Memorial Day to perform "On the Boat Again," a play on Willie Nelson's classic tune, "On the Road Again."
Jake Owen's Loose Cannon Track List: 
1. "Hot Truck Beer" (Jordan Fletcher, Jim McCormick, Austin Nivarel)
2. "Go Getter" (Brent Cobb, Jake Mitchell, Aaron Ratiere)
3. "Solo Solo" (Ashley Gorley, Ben Johnson, Blake Pendergrass, Hunter Phelps)
4. "On the Boat Again" (Willie Nelson, Devin Dawson, Kyle Fishman, Rocky Block, Blake Pendergrass)
5. "Hearts and Habits" (Thomas Archer, Jamie Moore, Jared Mullins, Ben Stennis)
6. "When It All Shakes Out" (Jacob Davis, Jordan Dozzi, Josh Jenkins)
7. "Hope Less" (Jared Mullins, Ben Stennis)
8. "It Don't, He Won't and You Do" (Jordan Dozzi, Justin Ebach, Chase McGill)
9. "Friends Don't Let Friends" (Jessie Jo Dillon, Hunter Phelps, Ben Stennis)
10. "Boy in the Chevrolet" (Ashley Gorley, Taylor Phillips, Bobby Pinson)
11. "Shrank" (Lalo Guzman, Walker Hayes, Hunter Phelps)
12. "Nothing" (Dallas Davidson, Kyle Fishman, Earle Hagen, Reid Haughton, Herbert Spencer, Cole Taylor)*
13. "Somewhere South With Rum" (Jacob Davis, Jordan Davis, Josh Jenkins, Matt Jenkins)
14. "The Ending" (Rodney Clawson, Luke Laird, Chris Tompkins)
15. "Hey Can I Buy You a Beer" (John Byron, Rocky Block, Travis Wood)
16. "Loose Cannon" (Matt Roy)
All songs produced by Joey Moi
* co-produced by Kyle Fishman
50 Great Modern Traditional Country Songs, with Artists
There's some great traditional country music out there, but you may need to hunt for it. We did the legwork with this list of 50 modern traditional country songs (from 50 different artists!).
50 Great Modern Traditional Country Songs (and Artists!):