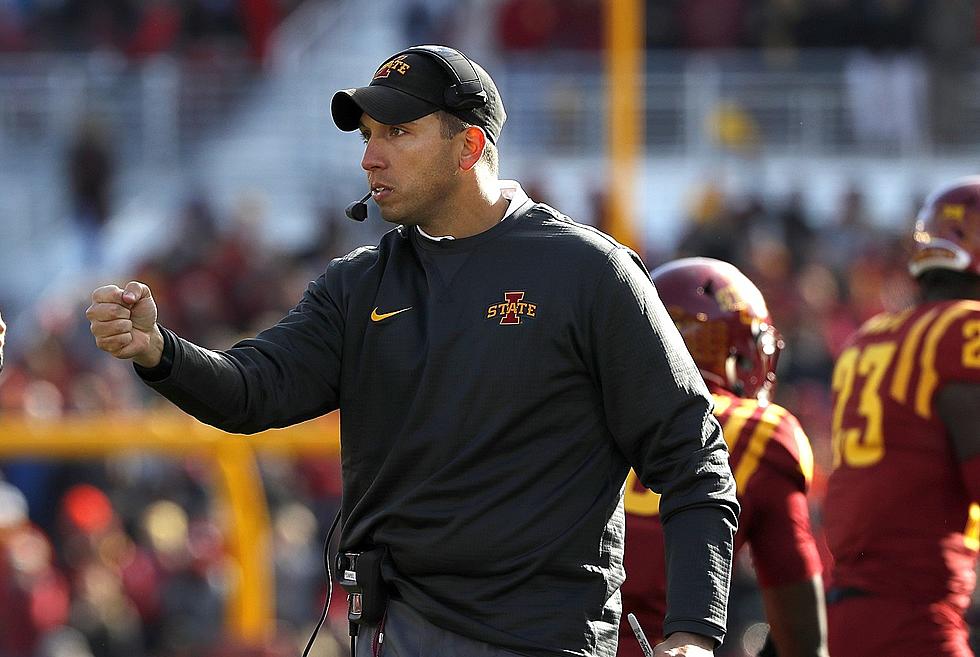 Iowa State Football Coach Matt Campbell Agrees to Contract Extension
David Purdy, Getty Images
Forget the rumors. Matt Campbell is staying as Iowa State football coach. The Cyclones announced this morning that their head man has agreed to another contract extension.
Supposedly, both Arkansas and Florida State were coveting Campbell as their next football coach, but he'll be in Ames for a 5th season in 2020, and likely many more.
Campbell has agreed to extend his contract through 2025, one more year on top of the deal he signed a season ago. His current contract specifies he'd have to pay Iowa State $6 million if he took another coaching position before next February. Terms and the financial portion of the new deal haven't been announced, but Campbell is currently paid $3.5 million per year.
In a media release from the Iowa State Sports Information Department, Campbell said,
I greatly appreciate Dr. (Wendy) Wintersteen's and (Iowa State AD) Jamie's (Pollard) proactive approach to extending my contract. My staff and I will be on the road this week actively recruiting the next class of Cyclones and it is important for recruits and their families to understand my commitment to Iowa State.
Iowa State finished the 2019 regular season with a record of 7-5, making Campbell's career mark in Ames 26 wins and 24 losses. Iowa State will learn their bowl destination this Sunday and if they win that game, Campbell will become the second football coach in the university's history to have three straight eight-win seasons. The other was Earl Bruce from 1976 to 1978.