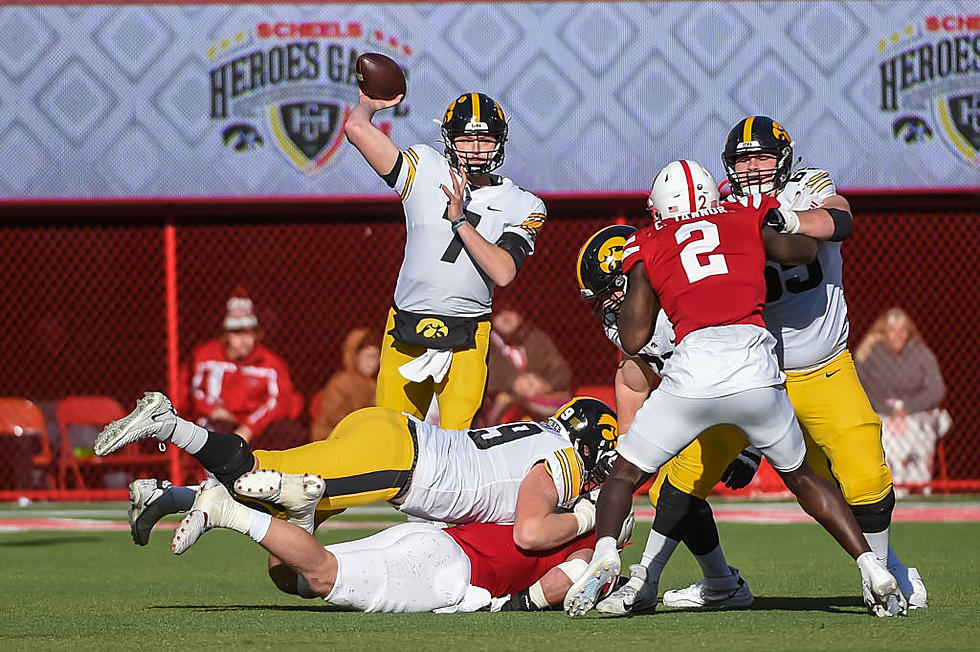 Iowa Names Starting Quarterback, While Another Plans To Transfer
Getty Images
The starting quarterback story for Iowa in Saturday's Big Ten Championship game is officially over, as Kirk Ferentz released the depth chart on Tuesday ahead of the game against Michigan.
Spencer Petras is listed as the starter, according to the Cedar Rapids Gazette. Petras came in during the second half of the Nebraska game and completed 7 of 13 passes for 102 yards. He replaced Alex Padilla who had just 76 yards through the air in the first half and had failed to move the offense with any consistency. Petras had been the starter for Iowa for the first nine games of the season but had to leave the Northwestern game due to a shoulder injury. Padilla finished the Northwestern game, and then started against Minnesota, Illinois, and Nebraska.
Hawkeye players noted that Petras continued to work hard even as the number two quarterback and that both Petras and Padilla had each other's back through the process, according to the Gazette. Wide receiver Charlie Jones told the Gazette that "we trust both guys...we believe in both guys".
Meanwhile, Iowa's third-string quarterback is officially entering the transfer portal. The Gazette reports that Deuce Hogan, who played in just one game this season, is planning to transfer. Hogan was a highly touted recruit that chose Iowa over other major football programs like Georgia, Baylor, and Tennessee.
The announcement comes four days after Ferentz joked during a postgame press conference what it would mean if Hogan would've started the Nebraska game. According to the Gazette, Ferentz said "If it was Deuce, with all respect to Deuce, I might've stayed in Iowa City". Ferentz stated on Tuesday that in retrospect, he wouldn't have made that comment after Friday's game.
12 Stupid Iowa Laws Still on the Books
Iowans Share the Weird Things That Freak Them Out