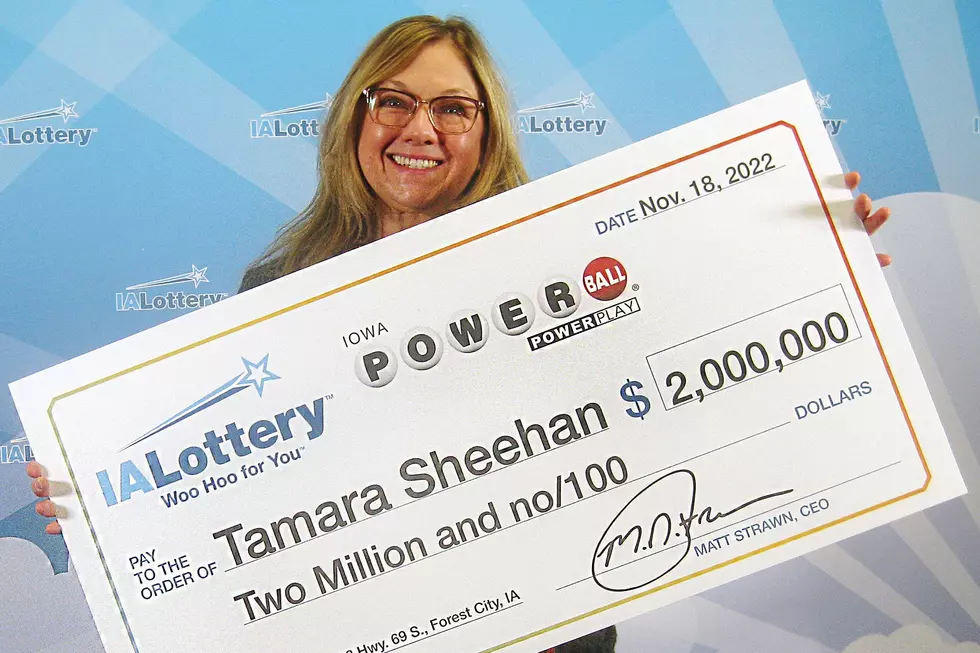 $2 Million Iowa Lottery Winner "Kept Quiet" as Community Buzzed
Iowa Lottery
Imagine knowing you were holding a Powerball ticket worth $2 million and somehow be able to control yourself so well that you don't tell anyone in the community. Tamara Sheehan, you have my admiration.
Back on October 10, Sheehan matched all five numbers but not the Powerball. However, since she had the PowerPlay option added on, her $1 million prize doubled. On the night, the Powerball jackpot was $401 million, Sheehan had the only $2 million Powerball ticket sold in the entire nation. Despite winning life-changing money, Sheehan didn't tell anyone. Until yesterday.
Sheehan is below, along with the winning ticket she submitted to the Iowa Lottery headquarters in Clive on Monday. Now, for how she went about keeping the secret.
Sheehan purchased her ticket at a Casey's store on Highway 69 S. in Forest City. The news hit that part of the state like a tidal wave in the community of 4,200 in north central Iowa. While everyone in the community wondered who had the winning ticket, Sheehan and her husband Stephen knew. What did they do? She told the Iowa Lottery they were "just being very quiet."
Tamara said she and her husband got "a lot of questions answered, specifically more on the financials and the taxes."  Ready to claim their prize, they made the trip to Clive on Monday. Sheehan says they'll be paying it forward to charities important to them. She says they'll also invest and take a couple of trips.
I'm also betting that Stephen and Tamara, who works in human resources, may discover she has some new friends.
There have now been six prizes of at least one million dollars claimed in Iowa this year. The Iowa Lottery says there's still a $1 million ticket sold in Ames this summer that hasn't been turned in. That Mega Millions ticket was from the drawing on September 6.
Biggest Winners in the History of the Lottery in Iowa
These are the people who have cashed the biggest checks since the Iowa Lottery debuted in the summer of 1985.
The ABCs of Iowa
I know Iowa may not be the most popular state to visit, but we still have plenty to offer! Using countless article, websites, lists, and maps, we put together a list of some of Iowa's best and biggest events, venues, and attractions using every letter of the alphabet (which wasn't easy)! Unfortunately, we couldn't include EVERY awesome place in the state (there aren't enough letters!), but here are our Iowa ABCs: