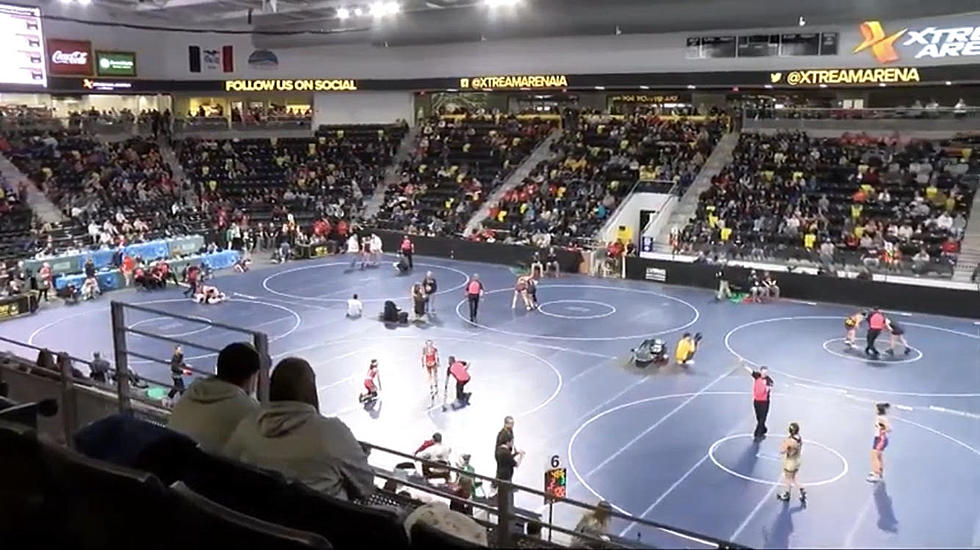 Iowa Girls High School Athletic Union Will Begin Sanctioned Wrestling in 2022-2023
WHO13 YouTube Channel
As girls and women's wrestling has continued to proliferate throughout the country and the collegiate ranks, it's only fitting that it comes to the high school level in Iowa.
As reported by the Des Moines Register, "The Iowa Girls High School Athletic Union will officially offer girls wrestling as a sanctioned sport starting in the 2022-23 school year. That's according to Erin Kirtley, an IGHSAU associate director who was hired in September for this very reason."
For the previous four seasons, the Iowa high school girls state championships were hosted by the Iowa Wrestling Coaches and Officials Association -- this year they were held in the Xtream Arena in Coralville.
Though the decision wasn't formally announced until the championships at the event this past Saturday, the IGHSAU Board of Directors gathered last Wednesday, Jan. 12, and passed the vote unanimously.
IGHSAU Executive Director Jean Berger shared this in a statement, according to The Register:
We think there's a great foundation in place for the success of this sport and we intend to fully support these Iowa girls as they continue their pursuit of championships. ... As the sanctioning process unfolded, the Board was able to quickly approve this new opportunity for our girls and schools across the state. The increase in participation, the growth in youth wrestling, and the willingness of our schools to commit to the sport all factored into this decision.
During the 2021-2022 season,1,023 girls wrestled statewide, and 695 girls signed up for this weekend's IWCOA girls state championships. The IGHSAU stated it's heard from 58 schools regarding officially starting wrestling programs.
With the decision to sanction the sport, Iowa joins 33 other states nationwide to make it official. Those states are as follows:
Alaska
Arizona
Arkansas
California
Colorado
Connecticut
Florida
Georgia
Hawaii
Idaho
Illinois
Iowa
Kansas
Maine
Maryland
Massachusetts
Michigan
Minnesota
Missouri
Montana
Nebraska
Nevada
New Jersey
New Mexico
North Dakota
Ohio
Oklahoma
Oregon
South Dakota
Tennessee
Texas
Utah
Washington
Wisconsin
Midwest House Has 4 Toilets in One Bathroom
A Milwaukee home built in 1851 apparently housed a family who did literally EVERYTHING together
Iowa Born Sports Stars
What do each of these stellar athletes have in common? They all hail from the Hawkeye State.