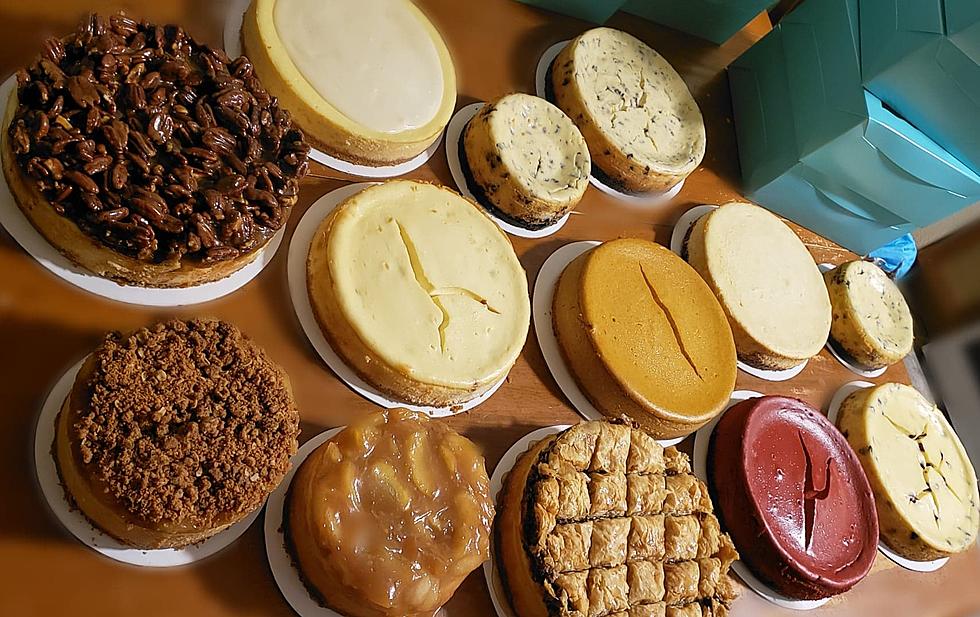 If You've Heard of the Cedar Rapids Cheesecake Lady, There's a Reason Why
courtesy Out Of The Blue Cheesecake Co.
Many have heard of The Cheesecake Lady in Cedar Rapids. Dawn Knowles Murray is the Original Cheesecake Lady and her Out of the Blue Cheesecake Co. started in early 2020 after she was furloughed and also because she was a single mother looking for a way to take care of her family.
Originally from New York City, Dawn has taken her love of NY Style cheesecake and perfected the recipe, herself. These are not anyone else's recipes! She began selling up to a half-a-dozen cakes a week to now between 30-50 cakes a week! All from her cozy home in SW Cedar Rapids.
Dawn has had some ups and downs since starting her cheesecake business. In fact, after the derecho in August of 2020, she stopped making them so she could help others in need after the destruction. She started making meals for people all over the city. Including a local home for seniors and the disabled when there was no power to most of the city. She was making 200 - 400 meals a day to feed as many people as she could that needed it. When the power was restored and things started moving forward again, instead of reopening her business, she was planning to go to work full-time because she also incurred damage from the derecho. Enough that it wiped her out, financially. Instead, she was able to continue being a stay-at-home mom. It was more important to her that she be there for her kids. Past customers, neighbors, and friends all started to donate ingredients and money to buy the ingredients to make her famous cheesecakes. They all encouraged her to bring back Out Of The Blue Cheesecake Co.
Dawn is back and baking the incredible cakes once again and has been doing so, at the past rate of 50 or more a week on average, for over a year. She does it all from her home while taking her care of her kids, taking them to practices and other events, folding laundry, and more.
Many have mentioned to her that she should open a storefront and expand. She has thought of that many times and it's a dream of hers, but for now, she likes to be a mom while making the cheesecakes everyone loves.
Check Out These Cheesecakes From the Original Cheesecake Lady of Cedar Rapids
Dawn Knowles Murray is the original Cheesecake Lady
She's noticed some "competition" over the last year and says that "Cedar Rapids is plenty big enough for there to be more than just one "cheesecake person", but as she says, "I'm the original Cheesecake Lady."
Out Of The Blue Cheesecake can be found at Groundswell Cafe where the proceeds go to help fund feeding those who are without (Dawn donates so that the sale of each can go to helping feed others), Lion Bridge Brewing Co. in Cedar Rapids, and right out of her home as well. Her menu is VAST and varied and she makes each to order. She also has Keto versions of many of her cakes for anyone cutting out sugar! If you'd like to purchase cakes from Dawn, you can see the menu below and message your order through The Cheesecake Lady Facebook page.
The Best Margaritas in the Cedar Valley
Looking to celebrate national margarita day? We've got the best spots across the Cedar Valley you've GOT to check out.
The Best Coffee Shops in the Cedar Valley
Everybody loves a good brew to start their day -- here are the best stops you can make between Cedar Falls and Waterloo for your next sip!