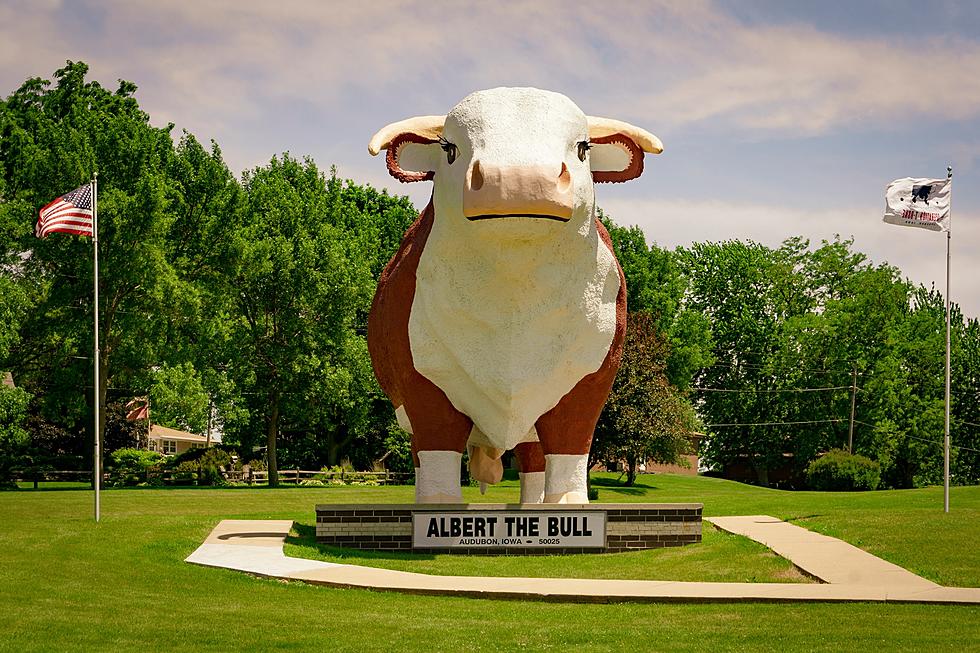 How Many of Iowa's 'World's Largest' Attractions Have You Visited?
Albert the Bull, Facebook
The state of Iowa is home to all sorts of strange and unique tourist stops and roadside attractions. There are some you've probably spotted before, but some you've never even heard of!
Thanks to the websites Only in Your State, Olio in Iowa, and Roadside America, I put together a list with 10 of the "World's Largest" attractions that Iowa is home to. Let's see how many you've spotted during your travels!
Built in 1963, the World's Largest Bull is located in Audubon, Iowa. His name is Albert, and he's 28 feet tall and weighs 45 tons! According to Facebook, Albert was created as "a tribute to Operation T-Bone, as well as the state and nation's beef industry." He's made up of concrete and recycled windmills.
Pocahontas, Iowa is home to a 25-foot-tall statue of Pocahontas that was designed by a taxidermist/sculptor named Warren Ballard. Also known as the "World's Largest Indian Maiden," the concrete statue has welcomed folks into the town since 1956.
The World's Largest Strawberry resides on a post in front of City Hall in Strawberry Point, Iowa. The sculpture is 15-feet-tall and is made of fiberglass. It was designed by a local ad agency and has been a fixture of the town since the 1960s.
Sac City, Iowa created the World's Largest Popcorn Ball on Saturday, June 18th of 2016.  According to the county's website, "the recipe consisted of 2,300 pounds of popcorn, 2,500 pounds of dry syrup mix and 4,900 pounds of sugar with just enough lecithin additive to make it stick." With the help of volunteers, the final product took more than 16 hours to complete and weighed in at 9,370 pounds! It's now on display inside its own structure.
Elwood, the World's Largest Concrete Gnome, resides at Reiman Gardens in Ames. He is 15-feet-tall and weighs 3,500 pounds! According to Olio in Iowa, "Elwood is made of iron cage covered in one cubic yard of concrete" and "the statue was unveiled to commemorate the 40th anniversary of Earth Day on April 22, 2010."
Iowa not only has the World's Largest Bull, but the World's Largest Bullhead (the fish). The enormous catfish was built in 1958 in Clear Lake, Iowa, but was restored in 2007. It's 12-feet-long and is a popular spot to take a quick photo.
Stanton, Iowa is the hometown of Virginia Christine, who Roadside America says was "briefly famous as 'Mrs. Olson,' a spokeswoman for Folgers coffee in TV commercials and on the sides of coffee cans." Because of this, the town transformed their water tower into a giant coffee pot. The pot is 35-feet-tall and 20-feet-wide and could hold 800,000 cups of coffee! In 2015, the water tower was taken down and now sits at ground level so visitors can take photos with it.
There is, however, another water tower in town that still stands and is painted to look like a Swedish coffee pot. It is much smaller than the pot, only holding 150,000 gallons of water, but it's still an interesting attraction for folks passing through Stanton!
Iowa City is home to the World's Largest Wooden Nickel! It's located in a farm field off of Iowa River Corridor Trail and was built as apiece of protest art in 2006. The wooden nickel is 16-feet-across and weighs around 4,000 pounds. Olio in Iowa reports that it took around 6-month to complete.
Located in West Bend, the Shrine of the Grotto of the Redemption is a religious shrine with nine grottos that show the life of Jesus. According to Wikipedia, construction began in 1912 by a German immigrant named Father Paul Dobberstein and took 42 years to complete. The site reports that "the estimated value of the rocks and minerals which make up the Grotto is over $4,308,000." 
And finally, we have the World's Largest Truck Stop in Walcott, Iowa. Built in 1964, the official website says that the truck stop is home to "eight restaurant choices, a convenience store, gift store, Super Truck Showroom, barber shop, chiropractor, dentist, movie theater, workout room, laundry facilities, gas islands, diesel fuel center, truck service center, Truckomat truck wash, Dogomat pet wash, CAT Scale, 24- private showers, trucking museum and more!" They have never closed ONCE since opening their doors!
How many of these ten attractions have you seen before? Let us know in the comments!
10 of the Most Unique Airbnbs in the State of Iowa
Looking for a cool weekend getaway here in Iowa? There are SO many unique Airbnbs to rent out across the state! We put together a list of ten, one-of-a-kind Airbnbs in Iowa.
Photos That Show the Beauty of Iowa