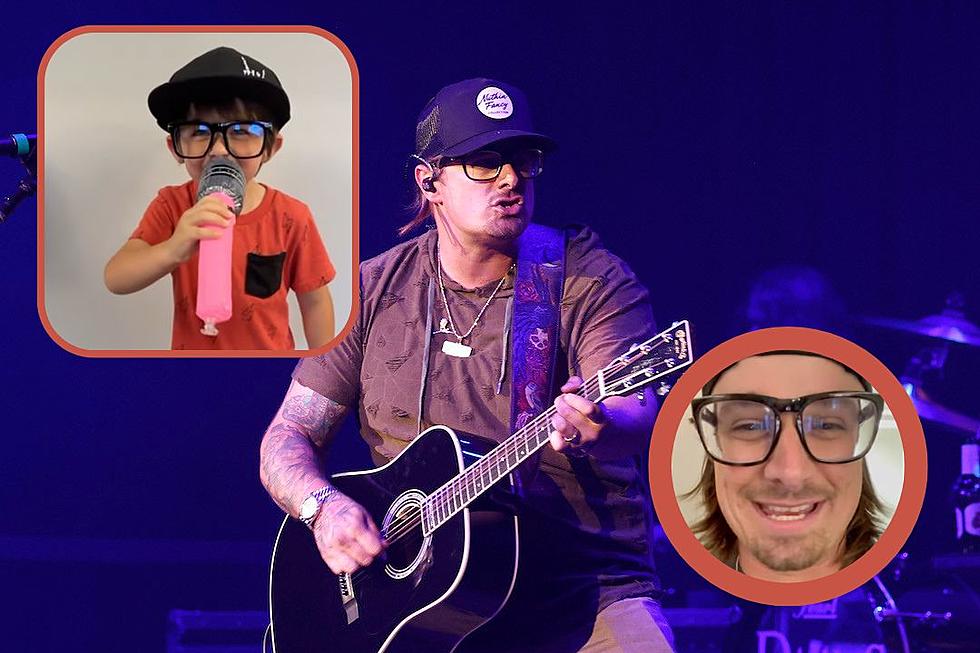 Hardy's Reaction to a 4-Year-Old Fan's Cover of His Song is Priceless [Watch]
Jason Kempin, Getty Images
A four-year-old fan from Michigan did Hardy proud with his cover version of the star's "Sold Out" -- even if it seems that Hardy might have taught the young boy some, ahem, colorful new words.
According to Lansing, Mich.-based radio station WITL 100.7, four-year-old Keaton is a huge fan of music -- he even prefers it over television -- and Hardy is one of his favorite performers. So much so, in fact, that little Keaton did a spot-on impression of the country star during a cover of one of the singer's hits, rocking Hardy's signature thick-brimmed glasses and a ball cap.
Coming off the rock portion of Hardy's half-rock, half-country album The Mockingbird & the Crow, "Sold Out" soared to the top of Billboard's Hot Hard Rock Songs chart this spring, and it's also a fan-favorite at his live shows.
Hardy's known for his high-energy, rock-inspired live delivery, and his young fan perfectly nailed the vibe of a Hardy show -- he even slammed an inflatable toy microphone to the round during his performance, a detail that didn't get past the country star when he watched Keaton's video.
"Oh, he throws the mic, dude!" Hardy crowed as he watched the clip, a big smile on his face. Hardy did express some sheepishness later on in Keaton's performance, when the young fan gets to the expletive-riddled line: "I'm still the same ol' redneck f--k, don't give a damn."
"Sorry!" Hardy comments with a grimace.
But by the end of Keaton's performance, the singer was so impressed that he filmed a short video message for the young fan applauding his "Sold Out" cover. "Saw your video, buddy. Keep singing. Keep throwing that microphone. Thanks for being a fan. I'll see you soon," Hardy says, beaming.
But even sweeter than Hardy's reaction to the song is the look on Keaton's face when he sees that his favorite singer saw -- and responded to -- his cover performance. After he watches Hardy's message for him, he turns toward someone recording the moment. There's a look of speechless surprise and excitement on his face, but his ear-to-ear grin says it all.
"Who was that?" asks the person behind the camera, as Keaton giggles and shyly says, "Hardy."
Hardy recently extended his headlining The Mockingbird & the Crow Tour. The new dates kick off at the end of August, and they'll extend into December.
50 Great Modern Traditional Country Songs (and Artists!):