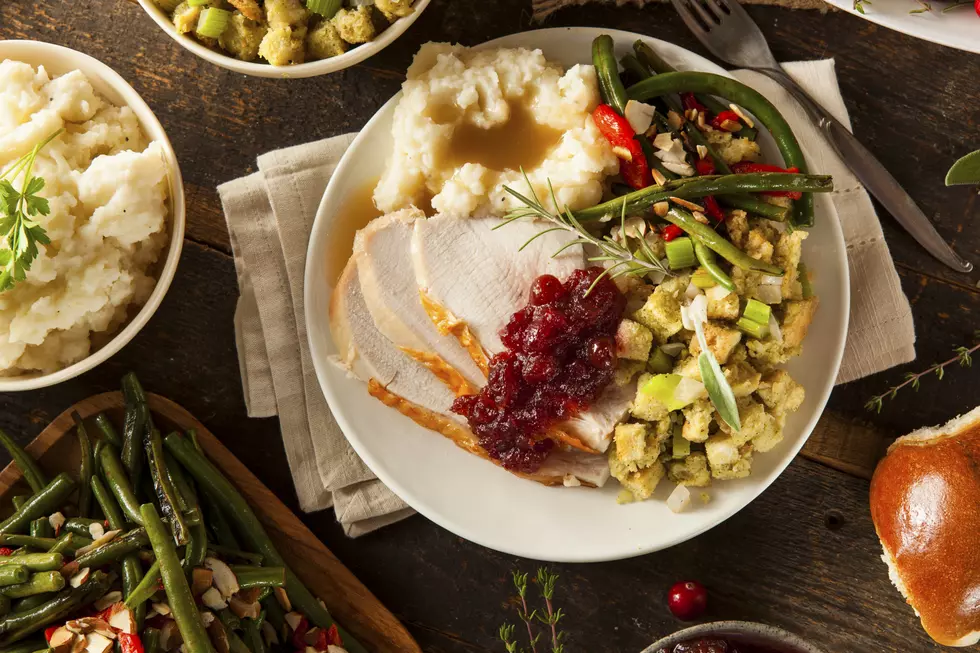 Fun Thanksgiving-Themed Foods You Can Try in Cedar Rapids This Month
Getty Images/iStockphoto
The classic Thanksgiving meal is always delicious. You've got your turkey, stuffing, mashed potatoes, gravy, etc. But, there are some different ways to enjoy all your Thanksgiving favorites, and a few Cedar Rapids restaurants are testing those out!
My hunt for interesting Thanksgiving-themed foods started yesterday when I saw a new post on the Fong's Pizza Facebook page. The Cedar Rapids restaurant announced on Monday that they have a couple of new featured menu items for the month of November. First up is the Fongsgiving Pizza. The pizza is topped with mashed potatoes, roasted turkey, stuffing, corn, gravy, mozzarella cheese, and a cranberry jalapeño lattice. Fong's is also featuring a unique appetizer called Pumpkin Pie Eggrolls. The description says it consists of "four pumpkin & cream cheese filled eggrolls, golden fried, topped with powdered sugar, and served with a homemade pumpkin spice whipped cream." YUM. Here are the pictures that they posted:
The Map Room in downtown Cedar Rapids will be bringing back one of their Thanksgiving-themed menu items this year. They have confirmed that The Moist Maker will be available to order the weekend before Thanksgiving. The Friends-inspired special consists of a "quarter-pound smashed burger, topped with mashed potatoes, stuffing, roast pulled turkey, cranberry mayo & of course, the gravy-soaked bread in the middle."
If you're in the mood for breakfast food, The Breakfast House in Cedar Rapids is currently serving pumpkin pancakes and waffles! They look DELICIOUS
Brewhemia in Cedar Rapids contacted me to let me know that they plan to offer a turkey burrito stuffed with mashed potatoes, stuffing, and cranberries, served with gravy and cranberry salsa on the side this month. Unfortunately, they couldn't tell me exactly when that menu item will be available, but we will be sure to let you know when we know!
The Blind Pig on Center Point Road has also assured me that they have a fun new Thanksgiving special on the way involving their nachos, just in time for National Nacho Day on Friday! They will be available this Friday only and will be topped with house-roasted turkey, butternut squash & chipotle cheese sauce, roasted sweet corn, poblano peppers, and cranberry pico de gallo. Once we have a picture, you'll be the first to see it!
By the way, if you're craving Thanksgiving food at any other point in the year, Capriotti's Sandwich Shop has a permanent menu item called The Bobbie. The sub is filled with slow-roasted turkey, cranberry sauce, handmade stuffing, and mayo.
I know this isn't in Cedar Rapids, but I had to share it with you because it looks incredible! If you're in the Davenport area, Cookies & Dreams has revealed that their Cookie of the Month is Caramel Apple. It's described as "a lightly spiced, super-soft cookie loaded with cinnamon chips & caramel bits, filled with apple pie filling & topped with thick & chewy caramel."
Do you know of any unique Thanksgiving-inspired menu items at local restaurants? Let us know in the comments!
Iowans Share Their Last Normal Photo Taken Before Quarantine