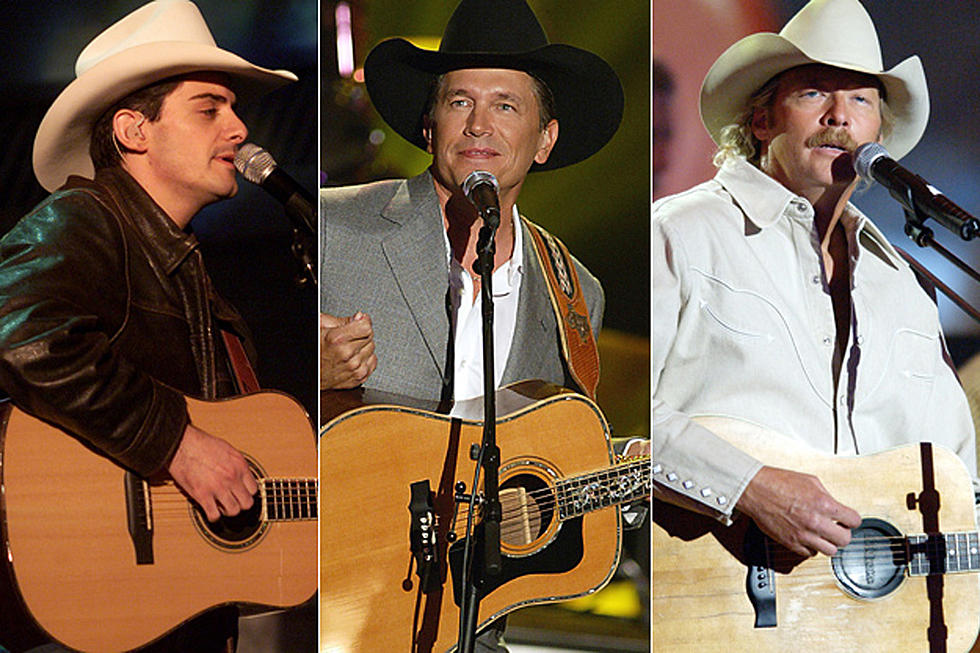 10 Best Country Father's Day Songs
Kevin Winter (2) / Vince Bucci, Getty Images
There's no better way to say "thanks" or "I love you" than with a song! In this list of the Top 10 Father's Day Songs, we honor all relationships with pop.
From the overworked and quiet dad in Reba McEntire's "The Greatest Man I Never Knew" to the playful happy dads in Alan Jackson's "Drive," this collection of songs is sure to hit for all the fathers out there who are being celebrated on their special day.
10

'Keep It Between the Lines'

Ricky Van Shelton

In 1991. Ricky Van Shelton topped the charts with his last No. 1 hit to date, and the first on our list of Father's Day Songs, "Keep It Between the Lines." This poignant story featured a dad giving coloring and driving advice to his son. Then, dad turns to a higher power for some inspiration and receives the same advice in return.

9

'He Didn't Have to Be'

Brad Paisley

Brad Paisley broke through in 1999 with his first No. 1 hit, "He Didn't Have To Be." Paisley, a father of two himself, recorded this overdue tribute to step-dads who fill the role of a lifetime. The CMA Entertainer of the Year winner has also tackled the father-son subject in other songs, like "Anything Like Me."

8

'Seein' My Father in Me'

Paul Overstreet

Paul Overstreet has written classics like "Forever and Ever, Amen" and "When You Say Nothing At All." In 1990, he saved 'Seein' My Father In Me' for a single of his own on RCA. The song reminds us of how we all seem to turn into our parents as we grow older, and it sits comfortably on our list of Father's Day Songs.

7

In 1991, Sawyer Brown captured the inevitable stages of life in "The Walk." The musical journey begins with a dad walking his son to the bus stop. As the years pass, the song ends with the son walking his dad to a nursing home. This song is bittersweet snapshot of life in a three-and-a-half minute classic, and great fit for remembering our dads on Father's Day.

6

'The Greatest Man I Never Knew'

Reba McEntire

This 1992 Reba McEntire fan favorite was co-written by Richard Leigh, who also wrote "Don't It Make My Brown Eyes Blue" for Crystal Gayle. "The Greatest Man I Never Knew" is an all too familiar description of the relationship many fathers do not have with their children. The song was later used as the centerpiece of the made for TV movie Is There Life Out There.

5

'He Walked on Water'

Randy Travis

In 1990, "He Walked on Water" peaked at No. 2 for Randy Travis. The Father's Day-appropriate song actually honors great grandfathers, who are larger than life through the eyes of a child. One listen can also conjure up images of any dad who spends quality time with his child.

4

'Love Without End, Amen'

George Strait

According to Billboard, this was the biggest chart hit of George Strait's career, landing at No. 1 for five weeks in 1990. The message of this song is one that every child needs to hear every now and then, especially after making a mistake: "Let me tell you a secret about a father's love / A secret that my daddy said was just between us / You see, daddies don't just love their children every now and then / It's a love without end, Amen!"

3

'Drive (For Daddy Gene)'

Alan Jackson

Alan Jackson has honored his father in songs like "Chasin' That Neon Rainbow," "Home" and "Small Town Southern Man." After Eugene Jackson died in 2000, the country giant wanted to compose a song to honor good memories of his father. "Drive" captures the life experiences shared with his dad that are now shared with his own daughters.

2

'Daddy's Hands'

Holly Dunn

Holly Dunn has often shared the legendary story of the song "Daddy's Hands." Dunn originally wrote the song as a gift for her father. Then, after landing a deal with Mary Tyler Moore's record label, MTM, she released the poem as a song in 1986. The following year, Holly Dunn won the CMA's Horizon Award.

1

'That's My Job'

Conway Twitty

In 1987, Conway Twitty was already an established legend in country music. "That's My Job" was not only a compelling story about the unconditional love of a father, but it was also completely different than any other typical Twitty single. The song shared the raw, scared feelings of the fear of losing an important person in one's life, especially the one person who provides us with security and support. In this poetic masterpiece, written by Gary Burr, dad reassures his son that it's his job to make sure everything is fine.