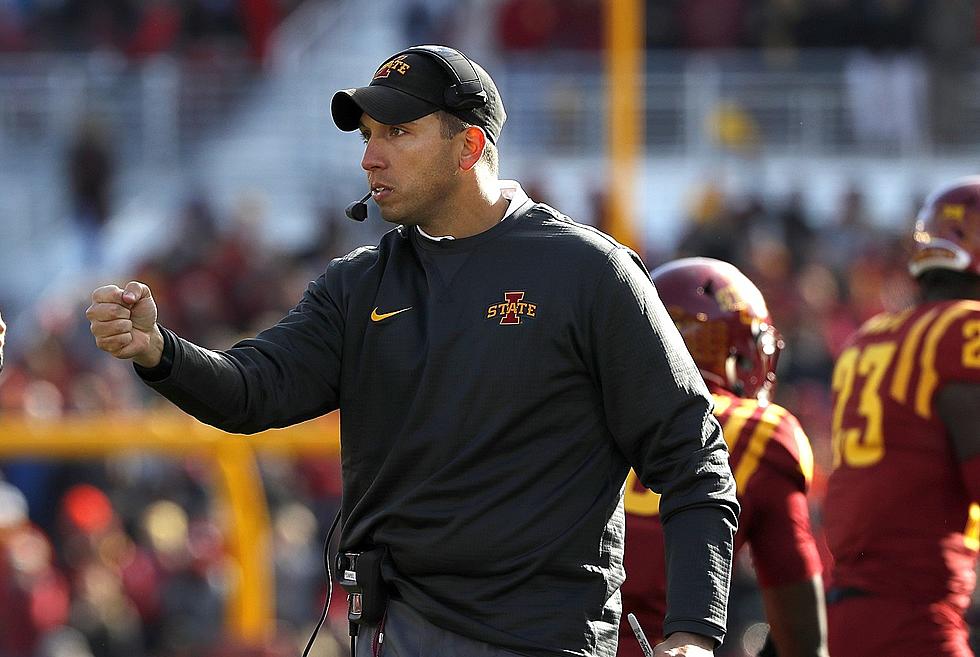 Could Matt Campbell Be Heading to Notre Dame?
David Purdy, Getty Images
The coaching carousel is in full swing. And when you're a young college football coach who's taken a once dormant Iowa State football program to the top of the Big 12, your name is bound to get tossed around a lot. Matt Campbell is used to it. But it isn't often that a job becomes available like the one in South Bend, Indiana.
CBS Sports is reporting that Notre Dame, stung by the announcement that head coach Brian Kelly is leaving for LSU, has narrowed down their coaching search to three top candidates. They include Matt Campbell of Iowa State, Luke Fickell from Cinncinati, and current defensive coordinator at Notre Dame Marcus Freeman. Bob Stoops has also come up, but Stoops has committed to coaching the Oklahoma Sooners in their bowl game.
CBS Sports reports that Fickell is a longshot because Cinncinati is still alive in the college football playoffs. Notre Dame might be hesitant to hire Freeman due to the last time they hired an ND defensive coordinator, Bob Davie. Davie followed the successful Lou Holtz in South Bend but lasted just five seasons with the fighting Irish. So could this be the perfect time for Campbell to say 'so long' to Ames?
CBS Sports says that before the season began, it was known Campbell would only leave Iowa State for either Ohio State or Notre Dame. I know that Cyclone fans don't want to hear this, but a chance to coach one of the iconic teams in college football history may just be too much for Campbell to turn down. Sources say he is the front runner. Stay tuned. The carousel is spinning fast!
KEEP READING: Here are 50 of the most famous sports goofs
10 Little Iowa Towns Known For Big Things