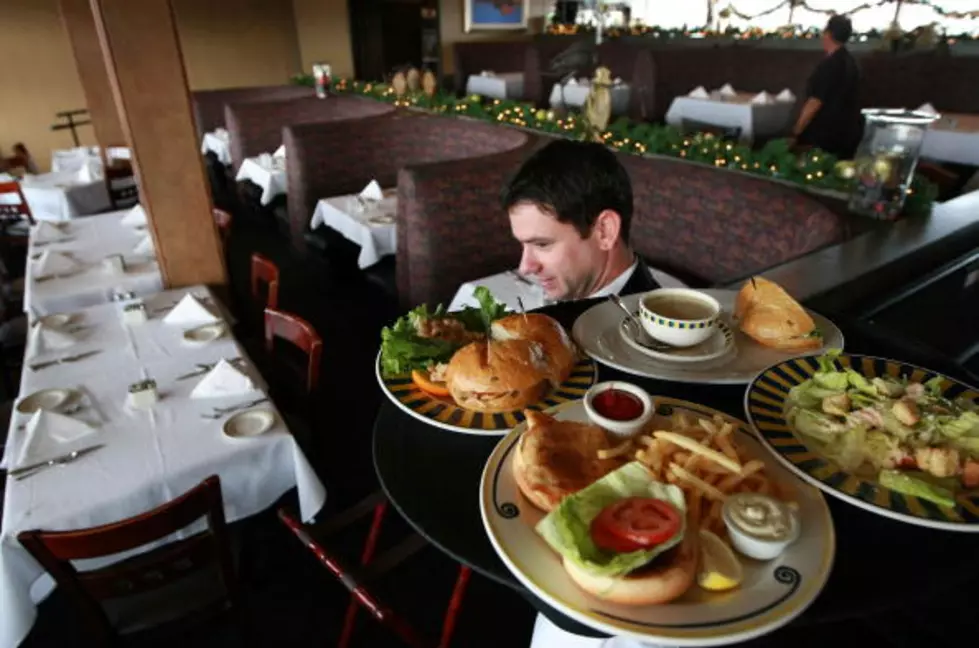 Cedar Rapids 10 Best Restaurants
Justin Sullivan, Getty Images
Valentines Day is almost here and here's a look at Cedar Rapids 10 best restaurants, based on ratings from Trip Advisor. One of these might be your perfect fit for the big day:
#10 Texas Roadhouse $$ Menu
This southwest Cedar Rapids chain restaurant on Edgewood Road has reviews that give it four stars on Trip Advisor like this one from Lori F who says, "Great steaks. The bread and cinnamon butter is out of this world good." Tomspiano's review includes, "Just look at the parking lot... TXRH in CR does a booming business because it offers great food and service at reasonable prices in a nice, casual and friendly atmosphere. Oh and free peanuts to boot."
Located off Edgewood Road in Cedar Rapids, near Blairs Ferry Road, Zeppelins scores 4.5 stars with reviews like this one from Judy B: "This restaurant is always full and you will see why once you taste the delicious items from the menu. A great menu for beer and libations. One of the city's most popular spots to meet friends after work. The dinner plates are generous. You won't go away hungry."
#8 The Class Act Restaurant $$ Menu
You'll find this restaurant in the Hotel at Kirkwood at the corner of Kirkwood Blvd and 76th St. SW in Cedar Rapids and it too grabs 4.5 stars. GiantsFan1986 loved it on a recent stay in our city saying, "No offense to folks from the Midwest, but the name of the restaurant in the middle of nowhere was a little scary. However, it turned out to be a very good description.
Located in a boutique hotel, it turned out to have some eclectic dishes, very good service and was reasonably priced. The food was very good, and in the unlikely chance I find myself back in Cedar Rapids, I will make sure to stop back for another meal!"
Another Cedar Rapids spot that received 4.5 stars, via reviews, you'll find it at 1006 3rd St. SE. Cynthia M is a fan, having gone Thanksgiving weekend. Here's what she had to say: "... We went to Bata's around 11:15 on Friday with our group of 8, including 2 small children. We had great service and great food. Everyone ordered something different, and we were all more than pleased. Two of us ordered the Daily Specials, which were excellent. By the time we left, every table was taken."
Yet another 4.5-star spot, it's just off 1st Avenue in Cedar Rapids, not far from the Home Depot. Its physical address is 222 Glenbrook Dr. SE. Terry T's review read, "Why are they hiding? Fantastic food and atmosphere and the Spicy Chicken Rangoons are my new addiction! Loved by the whole family!" Meanwhile, Devildog8411 said, "I have never been disappointed. Each and every time I step in this place. I have the best experience. Great service, great food all served with a smile. If I could bottle this place up, we would all be winners."
Granite City scores four stars and hits a home run with Judy B, who claims it's a "Great place for Sunday brunch. My family has sampled Sunday brunch at many places around town and we always return to Granite City because they have the widest menu and the best food. The restaurant is a great place for all other meals, too. It's usually crowded and that's because the food is very good. Make reservations if you have a larger party. 20 minute wait to get a table are not uncommon. But well worth the wait." You'll find it at 4755 1st Ave. S.E.
#4 Village Meat Market and Cafe Menu
Located at 92 16th Ave. SW, Village Meat Market and Cafe receives 4.5 stars. Terri A's review called it a "Great Place" and went on to say, "Visiting Cedar Rapids for a couple of days and wanted to try a non-chain restaurant for lunch. Good directions to get there and is located in a quaint part of Cedar Rapids, the Czech district.
We both enjoyed a sausage and kraut dish and it was delicious. The sausage was nicely seasoned and the German potato salad was great. The owner is so personable and we bought meat from the meat case before we left. If in Cedar Rapids, you should try this one."
The Lost Cuban is downtown at 209 3rd St. SE. This 4.5 star restaurant drew rave a rave review from ttphotogrophy: "The Lost Cuban" is one of my all time favorite restaurants.
You place your order at the counter, and take a seat. What comes out for you, is an Incredible Meal, of the Cuban Sandwich, rice & beans.
You won't find a better value in downtown Cedar Rapids.
After your meal, you must try the Cuban Coffee! Or try a mixed drink, with a Cuban flair.
This place won't disappoint you.
#2 White Star Ale House Menu
Also, located downtown at 305 2nd Ave. SE, it pulls in 4-stars, but Iowagirls610 and MarcyB bot give it 5-stars. Iowagirl610 said: "LOVED this place! Loaded smashed potatoes were literally the best I've ever eaten. Pork chop was to die for. Servers were attentive and very friendly. We will be back!" Marcy B says, "We held the rehearsal dinner for my son's wedding at the White Star last summer and it far exceeded my expectations. The appetizers were ready when we got there and the food was all served at the same time. They were easy to work with and did a great job. I have eaten there before and the food was really good. Full disclosure: I don't remember much about the food that night because the toasts had started and I was already crying, which was good, it kept me from crying the next day. They have two banquet rooms, we chose the smaller one and it was perfect. And for a crowd that big, I thought the cost was very reasonable."
#1 Biaggi's Ristorante Italiano $$ Menu
A chain restaurant at 320 Collins Road NE, Biaggi's receives 4.5 stars. Renee C called their Caesar salad the best in town and went on to say, "Superb Staff, Wonderful Ambiance. Best Caesar Salad I've ever had and I order a Caesar at almost every restaurant I go to. Many unique dishes. Excellent Chicken Florentine Soup ...not on the menu but they make it to order. I ordered a Margarita & asked if they could cut the sour...Best Margarita ever...they added a splash of Pina Colada ..heaven!"
There you have it, the top 10 restaurants in Cedar Rapids. There's a ton of other great ones and I bet one or more of your favorites are missing from the list. Please include it with a comment below and wherever you celebrate Valentines Day, here's hoping your food is perfect and the experience is even better.