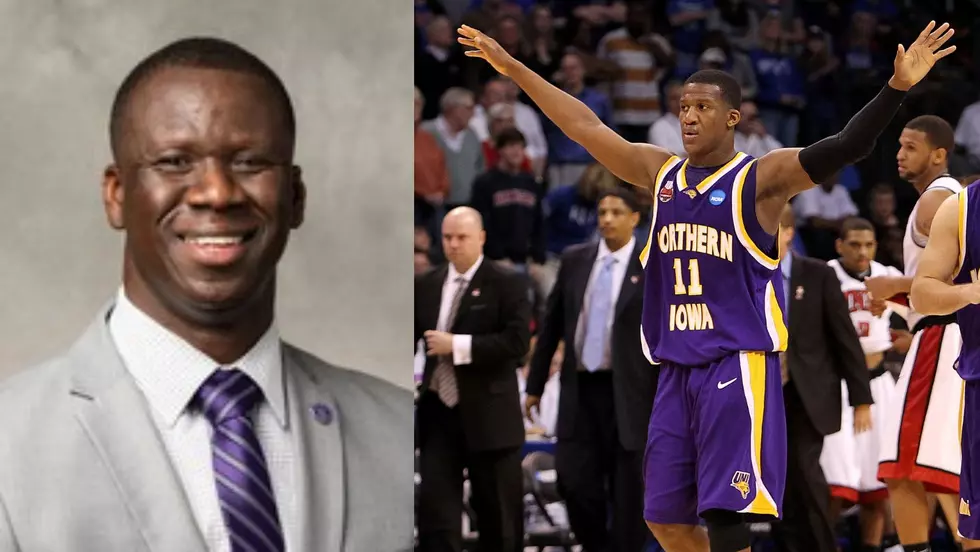 Brother of Panther Great Kwadzo Ahelegbe Will Join UNI Staff
St. Thomas Athletics / Getty Images / Canva
Kwadzo Ahelegbe is one of the best basketball players in recent memory for UNI basketball fans.
You may remember him from the 2010 Sweet 16 squad that upset the No. 1 overall seed Kansas in the second round of the NCAA Tournament, 69-67. Ahelegbe scored five points and dished out five assists for the Panthers that day.
A Twin Cities native, Ahelegbe was a two-star recruit that received interest from Creighton, Western Michigan, and Wyoming, but ultimately chose to join Coach Ben Jacobson in Cedar Falls as UNI was the only Division I program to offer him a scholarship.
Before him, his older brother Gameli played ball, too -- but the DI offer never came. He decided to go the JUCO route, playing for Neosho County Community College before returning to his home state to play for Division II Minnesota State-Mankato. A little over a decade later, and now Coach Jake is giving Gameli his shot to come to Cedar Falls.
As recently announced by UNI Athletics, Kwadzo's older brother is the newest addition to the UNI men's basketball coaching staff.
This is what Coach Jacobson said about hiring Gameli:
We are thrilled to add Gameli and his family to our Panther Hoops family. G has done a tremendous job at each of his previous spots and has built meaningful relationships that will immediately impact our program. Most importantly, our players are going to love him and he will be instrumental in their growth and development as young men.
Gameli added this of joining the UNI staff:
I've been able to be a part of some of the program's greatest moments as a family member and friend of the program. To have an opportunity to be involved in the day-to-day trenches of molding teenagers into men, all while being able to compete for MVC championships and deep runs in the NCAA tournament, is something my family and I couldn't pass on.
Prior to being added to the ranks of Panther coaches, Gameli spent time with St. Thomas, South Dakota, North Dakota, Minnesota State, and Concordia-Moorhead.
In four of his last five seasons at South Dakota, Ahelegbe helped the Yotes to top three finishes in the Summit League. In 2016-2017, USD made a trip to the National Invitation Tournament after reaching the Summit League Tournament Championship game.
Last season in Minneapolis (his only at St. Thomas), the Tommies went 10-20 and 4-14 in the Summit League. This was their first season playing at the NCAA Division I level.
In his two seasons playing for Minnesota State, Gameli scored 406 points, dished out 80 assists, and hauled in 126 rebounds.
Gameli fills the void on the bench left by longtime assistant and former Panther basketball player himself, Erik Crawford.
The UNI staff also added their graduate assistant for the year in Carter Stevens, replacing another former Panther basketball player, Marc Sonnen. Stevens played his collegiate basketball for the Dubuque Spartans.
A Breakdown of UNI's 2022 Football Schedule
The Panthers will embark on their 2022 season in September of this year. Let's take a look at who they'll face, including some of the best in the Missouri Valley Football Conference.
Wild Things Up For Auction From Waterloo Black's Building
The Black's Building is auctioning a whole bunch of historic and somewhat odd items in November.