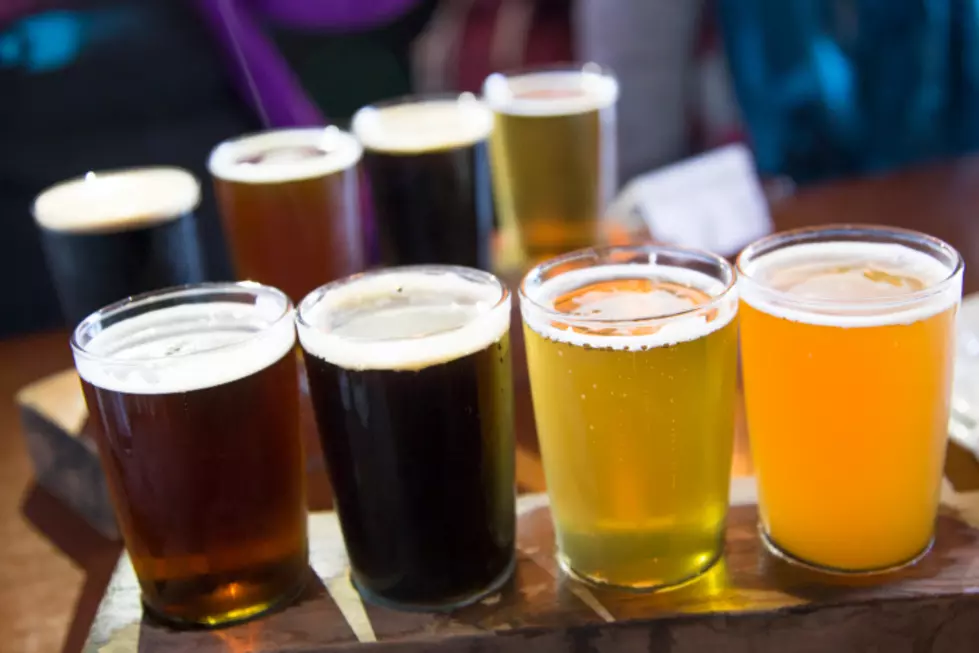 Breweries Revealed For The 2018 Cedar Rapids Beer Summit [LIST]
ThinkStock
The Cedar Rapids Beer Summit is Saturday, March 3 at the Doubletree by Hilton in downtown CR! Beer lovers will rejoice at the sight of over 100 craft brews and ciders available for sampling from 6-9 p.m.! Not only will there be an abundance of beer, but the event will also feature games like Corn Hole, food, and live music! Details on food vendors and the band are coming soon, but we can give you a brewery list now! Check out some of the amazing breweries you'll find at the 2018 Cedar Rapids Beer Summit in the list below.
Ace Cider (The California Cider Company)- Sebastopol, CA
Alltech Lexington Brewing & Distilling Co.- Lexington, KY
Avery Brewing Co.- Boulder, CO
Backpocket Brewing- Coralville, IA
Ballast Point Brewing Company- San Diego, CA
Bell's Brewery- Comstock, MI
Bent River Brewing Company- Moline, IL
Boulder Beer Company- Boulder, CO
Breckenridge Brewery- Littleton, CO
Brewery Ommegang- Cooperstown, NY
Brouwerij Lindemans- Vlezenbeek, Vlaams-Brabant
Central Waters Brewing Company- Amherst, WI
Ciderboys Hard Cider- Stevens Point, WI
Deschutes Brewery- Bend, OR
Empyrean Brewing Co.- Lincoln, NE
Exile Brewing Company- Des Moines, IA
Funkwerks- Fort Collins, CO
Goose Island Beer Co.- Chicago, IL
Great Divide Brewing Company- Denver, CO
Green Flash Brewing Company- San Diego, CA
Iowa Brewing Company- Cedar Rapids, IA
Kalona Brewing Company- Kalona, IA
Kona Brewing Company- Kailua Kona, HI
Lagunitas Brewing Company- Petaluma, CA
Lakefront Brewery- Milwaukee, WI
Left Hand Brewing Company- Longmont, CO
Lion Bridge Brewing Company- Cedar Rapids, IA
Lionstone Brewing- Geneseo, IL
Lost Coast Brewery- Eureka, CA
Millstream Brewing- Amana, IA
New Belgium Brewing Company- Fort Collins, CO
Nocoast Beer Co- Oskaloosa, IA
North Coast Brewing Company- Fort Bragg, CA
Odell Brewing Co.- Fort Collins, CO
Oskar Blues Brewery- Longmont, CO
Peace Tree Brewing Company- Knoxville, IA
Potosi Brewing Company- Potosi, WI
Ayinger Privatbrauerei- Aying
Reunion Brewery- Coralville, IA
Rogue Ales & Spirits- Newport, OR
Schlafly - The Saint Louis Brewery- St. Louis, MO
Shock Top Brewing Co.- St. Louis, MO
Sierra Nevada Brewing Co.- Chico, CA
Spoetzl Brewery- Shiner, TX
Squatters Craft Beers- Salt Lake City, UT
Summit Brewing Company- St. Paul, MN
Surly Brewing Company- Minneapolis, MN
Tallgrass Brewing Company- Manhattan, KS
The Quarter Barrel Arcade & Brewery (Iowa)- Cedar Rapids, IA
Toppling Goliath Brewing Co.- Decorah, IA
Two Brothers Brewing Company- Warrenville, IL
Uinta Brewing Company- Salt Lake City, UT
Wasatch Brewery- Park City, UT
Wilson's Orchard Hard Cider- Iowa City, IA
For more details on each brewery and the Cedar Rapids Beer Summit, click HERE.
Tickets for the Cedar Rapids Beer Summit are currently $35 and will only increase. VIP tickets (for an extra hour of sampling beginning at 5 p.m., etc.) are $55. Last year's event SOLD OUT, so don't waste any time and secure your spot today.