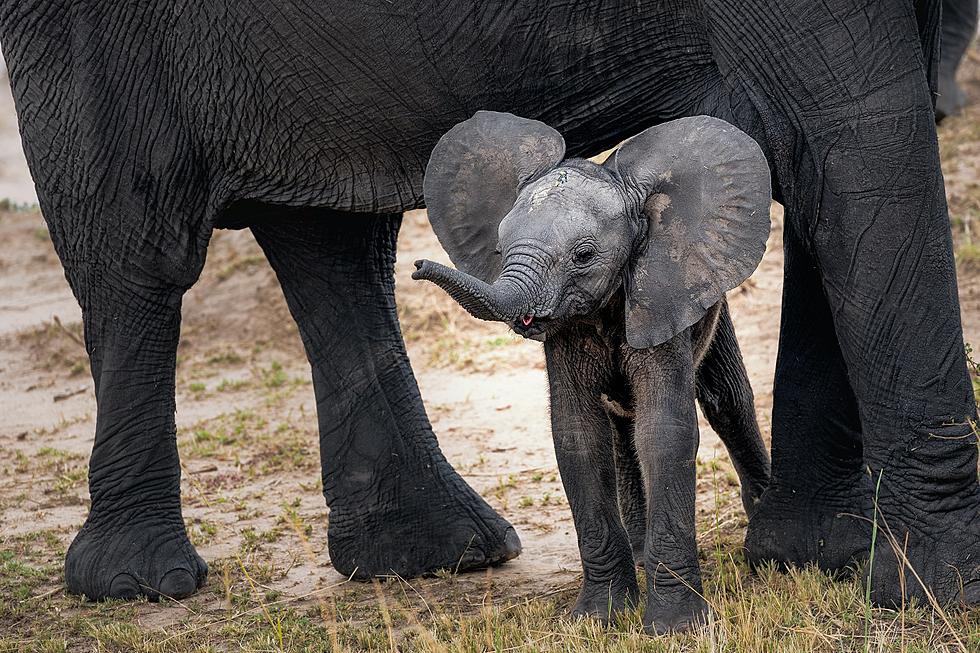 Explosion of Baby Elephant Births Continues at Midwest Zoo [PHOTOS]
Photo by Hu Chen on Unsplash
The photo above is a stock photo. Actual photos of the zoo's elephant calves are below.
The baby elephants just keep being born at an area zoo, and they're not done yet.
The newest elephant calf doesn't have a name yet but was born at 2:20 a.m. on Thursday morning, March 2. The little guy may not have a name but he's sure cute.
The newbie is the third African elephant calf born in the last 14 months at the Henry Doorly Zoo and Aquarium in Omaha, Nebraska. His mom, Lolly, is 11 years old and was being monitored around the clock by zoo staff in advance of the birth. They knew the little guy was just about ready to enter the world. Here he is:
I say little, but African elephant calves are definitely not that. According to Sea World, a male calf can weigh over 360 pounds at birth. They're able to stand just minutes after being born. The largest living land mammal in the world, the new African elephant calf could weigh as much as 14,000 pounds when fully grown. Female African elephants are typically much smaller. Amazingly, the gestation period for the pregnancy of an African elephant is 655 days... 22 months.
On January 7, 2022, a female elephant named Kiki gave birth to Eugenia. Eugenia was the first African elephant calf ever born at the zoo in Omaha and is shown below, checking out the newborn yesterday.
An elephant named Claire gave birth to Sonny just over three weeks later, on January 30, 2022. Sonny is in the photo below.
All three of the calves were sired by Callee, who is 22 and has been at the Henry Doorly Zoo and Aquarium since 2019.
A fourth elephant calf is expected to be born this summer. An elephant named Jayei is currently carrying that one.
The Henry Doorly Zoo and Aquarium's Elephant Family Quarters is now closed to the public as Lolly and her son bond. As you might imagine, the newborn isn't straying too far from mom. The zoo hasn't announced how long that area will be closed to visitors.
LOOK: Stunning animal photos from around the world
From grazing Tibetan antelope to migrating monarch butterflies, these 50 photos of wildlife around the world capture the staggering grace of the animal kingdom. The forthcoming gallery runs sequentially from air to land to water, and focuses on birds, land mammals, aquatic life, and insects as they work in pairs or groups, or sometimes all on their own.
LOOK: 30 fascinating facts about sleep in the animal kingdom