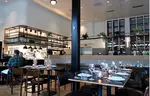 An Upscale New Restaurant Has Opened in Iowa City
The Webster Iowa City via Instagram
The corner that was once home to Pearson's Drug Store in Iowa City is now home to a brand new restaurant!
A new article from the Iowa City Press-Citizen has revealed that The Webster is now officially open at 202 North Linn St., right at the corner of North Linn Street and East Market Street. According to the article, that corner "recently hosted a Central State Bank location (and prior to that a That's Rentertainment movie rental store) before the building was torn down in early 2018."
The Webster is a new eatery owned by couple Sam and Riene Gelman, who moved to Iowa from New York. Sam grew up in Iowa City and often visited Pearson's Drug Store with his grandfather Webster, which is how the restaurant got its name. Both Sam and Riene have a ton of restaurant experience and they're ready to serve up some delicious food to folks here in the Corridor!
According to the Facebook page, "The Webster is a cosmopolitan restaurant with a Midwest heart, serving contemporary American fare in a relaxed but refined environment." The menu will change seasonally and will include locally-sourced ingredients from Iowa and the Midwest. Some of the current options include small plates like oysters, large plates like roasted Iowa chicken or pork, pasta, and different breads and sides. You can see the full menu HERE.
Although the restaurant is currently open for business, they do have a few additions coming soon. On June 4th they will open a private dining area upstairs, and later this month there will be outdoor seating options. They eventually hope to be open seven days a week, but right now they're open Tuesday through Thursday from 5:30 p.m. to 9 p.m. and Friday & Saturday from 5:30 p.m. to 10 p.m.
Read more about The Webster and its owners from the Iowa City Press-Citizen article HERE.
A Look at Tiki Tacos 'n Burgers 'n Wings