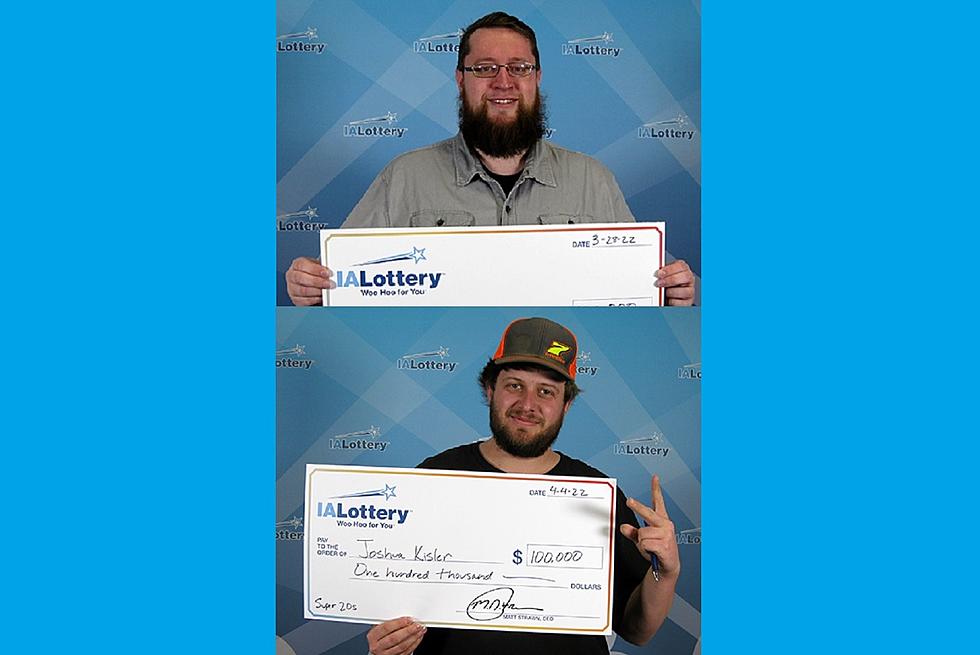 2 Iowans Win Big with the Lottery Days Apart, at Same Retailer
Iowa Lottery
My two initial thoughts on writing this story. Congrats, fellas! (and) C'mon man, share the wealth.

This has to be a rare feat but two western Iowa men both won six-figure jackpots from the Iowa Lottery in a seven-day period over the last couple of weeks. Not just in the same city, but from the state retail location.
The first man to cash in was 33-year-old Jacob Harper. A resident of Glenwood in extreme western Iowa, Harper won the top prize in the Iowa Lottery's "$100,000 Mega Crossword" contest. He told the Iowa Lottery, "I counted again and again and I think I got up to like 10 times of going through and seeing six before it finally sunk in that I just won $100,000... "I'm ecstatic. It's life-changing."
Harper purchased the winning ticket at a Casey's store at 601 S. Locust Street in Glenwood. It was the 16th top prize awarded in the scratch game that has a total of 38 $100,000 prizes. Now, if you think lightning can't strike twice in the same spot (even when it comes to winning), think again.
Just days later, Joshua Kisler also won $100,000 with a scratch ticket. He was playing the "Super 20s" game and yes, he also bought his winning ticket at the same Casey's store on South Locust Street in Glenwood, a town of fewer than 5,400 people. Kisler's top prize was the 11th that was awarded of the 16 that are available in the contest.
That's great luck of the draw for that convenience store and for those two gentlemen. Congratulations, Jacob & Joshua! It's eastern Iowa's turn... hopefully.
LOOK: Here is the richest town in each state
Just saying the names of these towns immediately conjures up images of grand mansions, luxury cars, and ritzy restaurants. Read on to see which town in your home state took the title of the richest location and which place had the highest median income in the country. Who knows—your hometown might even be on this list.
KEEP READING: Here are the best places to retire in America