Kevin Spacey Slammed for Coming Out Amid Sexual Assault Allegation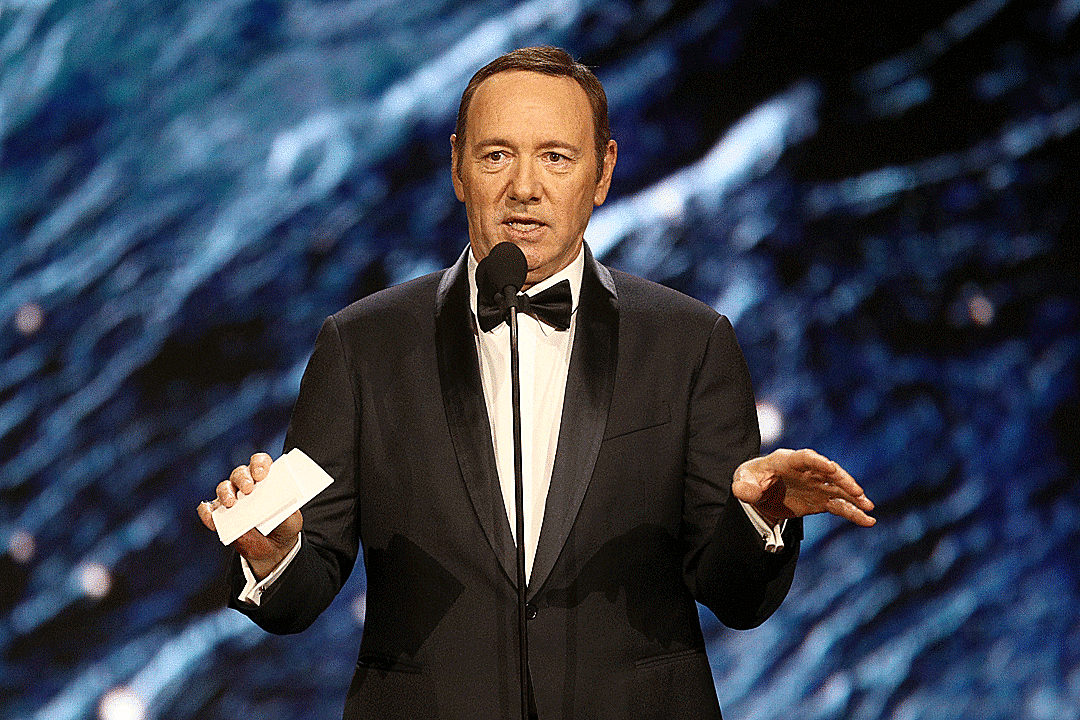 Academy Award-winning actor Kevin Spacey is facing some serious backlash for coming out of the closet as an answer to allegations that he sexually assaulted a teenager years ago.
Star Trek: Discovery star Anthony Rapp, 46, recently told BuzzFeed that Spacey made unwanted sexual advances toward him when they were both starring in Broadway shows back in 1986. Rapp would've been 14, Spacey 26.
"He was trying to seduce me," Rapp said. "I don't know if I would have used that language. But I was aware that he was trying to get with me sexually."
The incident has certainly lingered with Rapp all these years, too. "My stomach churns," Rapp said about the alleged encounter. "I still to this day can't wrap my head around so many aspects of it. It's just deeply confusing to me."
Spacey, 58, responded by posting a letter of apology on Twitter, in which he also revealed he's gay.
— Kevin Spacey (@KevinSpacey) October 30, 2017
For his part, Rapp has said he has no plans to elaborate on the ordeal, taking to Twitter to close the book on the matter.
I came forward with my story, standing on the shoulders of the many courageous women and men who have been speaking out 1/3

— Anthony Rapp (@albinokid) October 30, 2017
to shine a light and hopefully make a difference, as they have done for me. 2/3

— Anthony Rapp (@albinokid) October 30, 2017
Everything I wanted to say about my experience is in that article, and I have no further comment about it at this time.

— Anthony Rapp (@albinokid) October 30, 2017
And while that might seem like the end of the story, it may very well be just the beginning. With Hollywood reeling in the aftermath of the accusations against Harvey Weinstein, many celebrities called out Spacey for going with a "I'm gay" defense that should not distract everyone from the sobering reality of his potential offenses.
No no no no no! You do not get to "choose" to hide under the rainbow! Kick rocks! https://t.co/xJDGAxDjxz

— Official Wanda Sykes (@iamwandasykes) October 30, 2017
Bye bye, Spacey goodbye, it's your turn to cry, that's why we've gotta say goodbye. #ROSEARMY

— rose mcgowan (@rosemcgowan) October 30, 2017
Kevin Spacey has just invented something that has never existed before: a bad time to come out.

— billy eichner (@billyeichner) October 30, 2017
Kevin Spacey has immense wealth & fame, and yet never came out as a gay man until he needed a distraction from this story – & sympathy. https://t.co/VEDQQ5vM5C

— Glenn Greenwald (@ggreenwald) October 30, 2017
Unfortunate that he chose this as a coming out moment instead of focusing on allegation that he, as a man, did something horrid to a child https://t.co/jQfCqzjppo

— jamilah (@JamilahLemieux) October 30, 2017
u don't remember the incident – 30 years ago? – fuck u kevin – like Harvey we all knew about u – I hope more men come forward @KevinSpacey

— ROSIE (@Rosie) October 30, 2017
Anthony Rapp: "Kevin Spacey tried to rape me."

Media: "Kevin how do you respond?"

Spacey: "uuh…uuhh… Hey everyone I'm gay!" pic.twitter.com/6LAEfsyRtF

— Travon Free (@Travon) October 30, 2017
Nope to Kevin Spacey's statement. Nope. There's no amount of drunk or closeted that excuses or explains away assaulting a 14-year-old child.

— Dan Savage (@fakedansavage) October 30, 2017
This is not about you being gay, Mr Spacey, it's about you being an alleged paedophile. https://t.co/L92PwDsAB0

— Piers Morgan (@piersmorgan) October 30, 2017
Kevin Spacey's comment was wrong on so many levels. https://t.co/5pFhiqMK5W

— Larry Wilmore (@larrywilmore) October 30, 2017
This is changing the subject. Rapp's charge is pedophilia. https://t.co/FNSiSW27KB

— Frank Rich (@frankrichny) October 30, 2017
How dare you implicate us all in this

— Richard Lawson (@rilaws) October 30, 2017
It took 58 years for Kevin Spacey to cash in his gay out of jail free card.

— Michael Knowles (@michaeljknowles) October 30, 2017
"Sure, I may have tried to rape a 14-year-old boy when I was 26, but I'm gay!" is a pretty horrible defense. #Spacey

— Ben Shapiro (@benshapiro) October 30, 2017
part of the horror of spacey's cynical ploy to use his coming out to deflect abuse allegations is how well it is working

— Julia Carrie Wong (@juliacarriew) October 30, 2017
The Harshest Celeb-on-Celeb Disses:

Source:
Kevin Spacey Slammed for Coming Out Amid Sexual Assault Allegation